More than 1m Brits want Trump visit canceled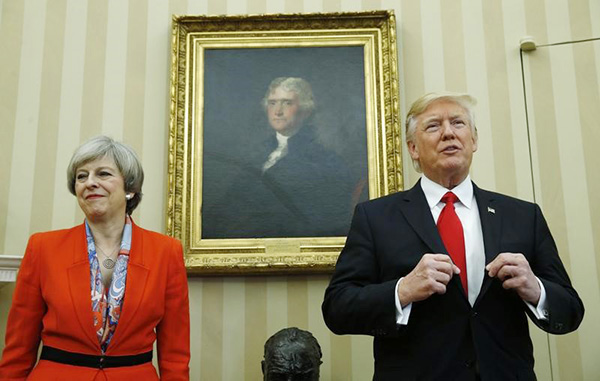 US President Donald Trump meets with British Prime Minister Theresa May in the White House Oval Office in Washington on Friday. [Photo/Agencies]
More than one million United Kingdom residents have signed an online petition calling for US President Donald Trump to be blocked from making a state visit to Britain.
The petition argues Trump should be allowed to enter the UK in his capacity as the head of the United States government but that he should not be invited to make such a trip into an official state visit because that would "cause embarrassment to Her Majesty the Queen".
However, Downing Street confirmed that British Prime Minister Theresa May will not be withdrawing her invitation to the US president, saying it would undo everything Theresa May achieved during her visit to the US last week.
According to government protocol, any petition that can muster 100,000 signatures or more is automatically considered for a debate in Parliament.
Graham Guest, the petition's creator, told the Guardian newspaper that "Donald Trump's well-documented misogyny and vulgarity disqualifies him from being received by the Queen or the Prince of Wales. Therefore, during the term of his presidency, Donald Trump should not be invited to the United Kingdom for an official state visit".
At the time of writing, 1,085,014 people had signed the online petition and the number was rising quickly.
Contact the writer at wangmingjie@mail.chinadailyuk.com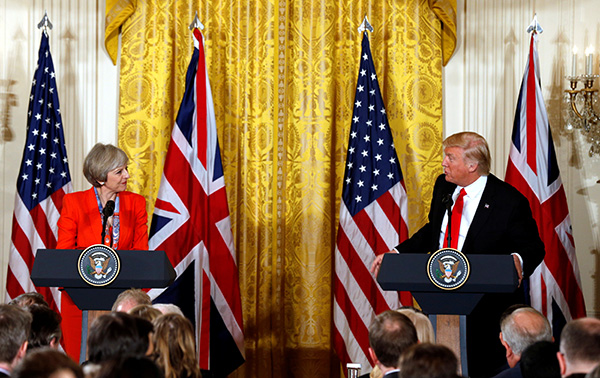 British Prime Minister Theresa May and US President Donald Trump gesture toward each other during their joint news conference at the White House in Washington on Friday. [Photo/Agencies]