Hamon, Valls qualify to France's Left primary run-off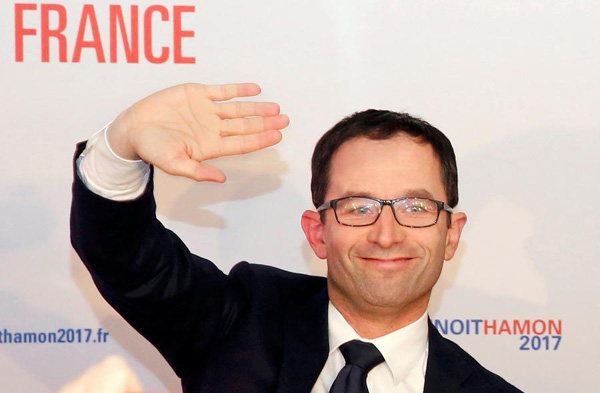 Former French minister Benoit Hamon reacts after the results in the first round of the French left's presidential primary election in Paris, France, January 22, 2017. [Photo/Agencies]
PARIS - Ex-education minister Benoit Hamon on Sunday came top out of seven candidates in the first round of French Left primary to choose a presidential election, partial results showed.
First results based on 3,090 polling stations out of a total 7,534, Hamon was seen collecting 35.21 percent of the vote, making a lead to former French prime minister Manuel Valls's 31.56 percent.
Ex-economy minister Arnaud Montebourg is out of the race with 18.78 percent of the vote.
"By placing me in the lead, you sent a clear message of hope and renewal. You have expressed your desire to open a new page for the Left," Hamon addressed his supporters.
"We must finish with the old recipes, the old politics. I will continue to defend the priority given to the social issue, ecological conversion and democratic renewal," he added.
Long trailing his rivals in opinion polls, the 49-year-old left-winger has seen his ratings unexpectedly start surging a few days ahead the contest after three televised debates gave him impetus.
Hamon is likely to pass the Left primary run-off with a strong lead thanks to the backing of defeated candidates including Montebourg.
"Primary voters have spoken ... They massively and seriously condemned the mandate (of the Socialist president Francois Hollande)," Montebourg said after the release of the partial results.
"Next Sunday, I will vote Benot Hamon and I invite you to do the same," Montebourg said.
Losing momentum, Valls said that for the second round, "nothing is written."
"A new campaign begins this evening. A very clear choice is now for you and for us," he said.
Valls and Hamon will meet in head-to-head context on Jan 29.
Dominating France's political landscape for decades, the Socialists and the broader Left are weakened by internal upheavals that it has been hard for them to build momentum to take on the right-wing and the far right party.
No left-wing candidate is likely to pass to presidential run-off on May 7 after Hollande's policies had alienated left voters, the country's pollsters predicted.
The primary is the second such competition held by the Socialist Party and allies.
In 2011, the Socialist Party had opened a two-round contest to all registered voters regardless their political view as long as they share the left-wing values and donate 1 euro (1.069 US dollar).