Ex-presidential chief of staff, culture minister in S.Korea detained over scandal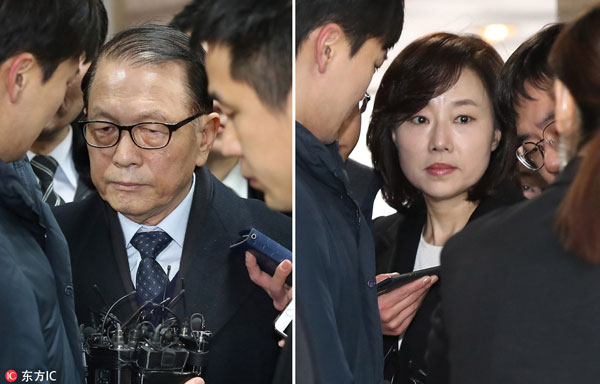 Kim Ki-choon (L), South Korean former presidential chief of staff to President Park Geun-hye, and South Korean Culture Minister Cho Yoon-sun arrive at the Seoul Central District Court for a court hearing to review the legality of their detention in Seoul, South Korea, Jan 20, 2017.[Photo/IC]
SEOUL -- Former presidential chief of staff and incumbent culture minister of South Korea were detained early Saturday for their alleged involvement in the so-called "cultural blacklist" to exclude artists against government policies from financial assistance.
A Seoul court issued arrest warrants for Kim Ki-choon, former top advisor to impeached President Park Geun-hye, and Cho Yun-sun, incumbent sports and culture minister who stepped down after the detention.
An independent counsel team investigating the presidential scandal requested the detentions earlier this week for charges that they masterminded the compiling of a list in the culture circle to block anti-government artists from being financially supported.
The list reportedly includes almost 10,000 artists and celebrities, including famous actors, actresses and directors as well as poets, novelists and people of the theater.
Kim, who served as top presidential advisor to President Park from August 2013 to February 2015, had worked for military strongman Park Chung-hee, father of the impeached leader, who seized power in a 1961 coup and ruled the country until his assassination in 1979.
Cho, who had worked as senior presidential secretary for political affairs from June 2014 to May 2015, became the culture and sports minister in August last year.