Trump's son-in-law Kushner to become senior White House adviser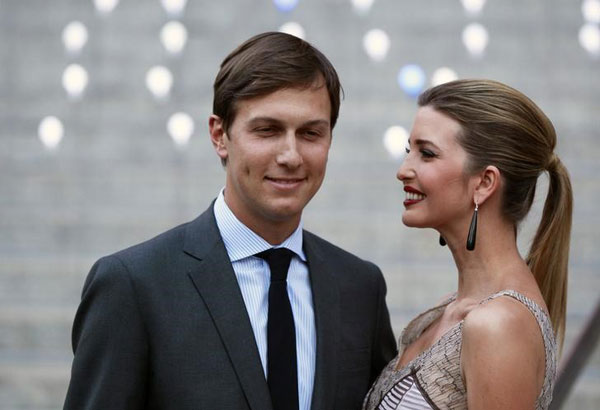 Ivanka Trump arrives with husband, Jared Kushner, at the Vanity Fair party to begin the 2012 Tribeca Film Festival in New York, April 17, 2012. [Photo/Agencies]
'WE HAVE THE BETTER ARGUMENT'
Jamie Gorelick, a New York lawyer who served as deputy attorney general for Democratic President Bill Clinton and helped advise Kushner, said his new post would not violate a 1967 anti-nepotism statute.
She said Congress in 1978 authorized the president to hire personnel for the White House office "without regard" to federal personnel laws like the anti-nepotism statute and that court rulings had determined the White House was not an "agency" under the anti-nepotism law.
"I'm not saying that there isn't an argument on the other side, and I respect the people who have made the argument on the other side. I just think we have the better argument," Gorelick said.
Richard Briffault, a government ethics expert at Columbia Law School, disagreed. "Given the fact that the president is specifically mentioned, you would think that someone that is working for the president would be covered" by the anti-nepotism law, he said.
In the early 1960s, John F. Kennedy aroused controversy after his election as president by naming his brother Robert as attorney general.