Johnson heads to US to meet Trump team
United Kingdom's Foreign Secretary Boris Johnson flew to the United States on Sunday for talks with Donald Trump's advisers as London looks to map out the future of its key alliance under the new presidency.
The trip follows Thursday's announcement that Prime Minister Theresa May will visit Trump this spring following his inauguration as president on Jan20.
Both visits follow a preparatory trip by May's Joint Chiefs of Staff Nick Timothy and Fiona Hill last month after Trump's victory in November's election.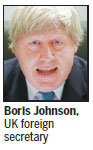 "Following the successful meeting last month between the prime minister's chiefs of staff and president-elect Donald Trump's team, Foreign Secretary Boris Johnson is undertaking a short visit to the US for meetings with close advisers to the president-elect and senior congressional leaders," a Foreign Ministry spokesman said.
"The discussions will be focused on UK-US relations and other foreign policy matters."
Johnson was expected to meet Trump's son-in-law and key adviser, Jared Kushner, and incoming White House chief of strategy Steve Bannon in New York.
The UK is on the lookout for trade deals following its June 2016 referendum to leave the European Union, although the relationship between Trump and the UK has not been entirely smooth so far.
May said on Sunday she will announce details of Brexit plans in the next few weeks, and denied a former diplomat's claim that the government is "muddled" about it.
In her first interview of 2017, May also said Trump had made "unacceptable" comments about women but stressed she's had "good" conversations with the Trump about the vital trans-Atlantic relationship.
Trump has riled London by choosing to ally himself with Nigel Farage - a key anti-EU campaigner and thorn in the side of May's Conservative government.
Farage was the first UK politician to meet Trump after his election and the president-elect has since said Farage would make a good ambassador to the US, a suggestion rejected by Downing Street.
There was also surprise that May waited more than 24 hours after the US election before receiving a phone call from Trump, deemed an unusual length of time by commentators.
During the call the pair reaffirmed the "very special" relationship between the two countries, May's office said.
(China Daily 01/10/2017 page12)
Today's Top News
Editor's picks
Most Viewed