Turkish police detain wife of Istanbul night club attacker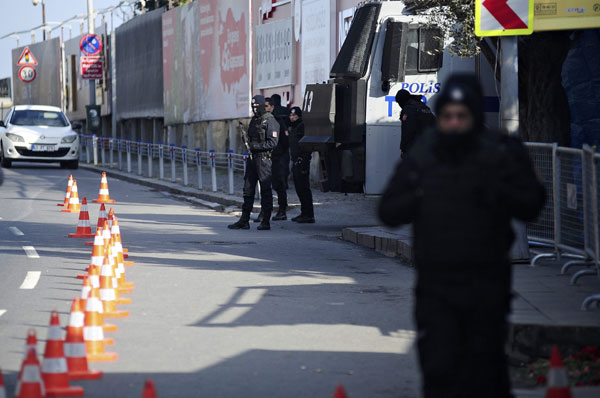 Turkish police stand guard outside the Reina nightclub by the Bosphorus, which was attacked by a gunman, in Istanbul, Turkey, January 2, 2017. [Photo/Agencies]
ISTANBUL - The Turkish police have detained the wife of the Istanbul nightclub attacker who is still on the run two days after he shot dead 39 people, local media reported on Tuesday.
IHA news agency said the gunman came to Turkey from Kyrgyzstan on Nov 20 with his wife and two children, and the wife was detained in the central Anatolian city of Konya.
According to IHA report, the wife told the police that she learned the attack from television reports and she had no information about her husband being an Islamic State sympathizer.
The militant group claimed responsibility for the assault on Reina nightclub in central Istanbul, in which the gunman opened fire at hundreds of people celebrating the New Year, killing 39, 25 of whom have been identified as foreign nationals, and injuring 69 others, with four discharged from hospital now.
As the manhunt was continuing, Turkish Deputy Prime Minister Numan Kurtulmus, following a cabinet meeting in Ankara on Monday, said police had got the fingerprints and descriptions of the attacker.
Kurtulmus claimed that the Turkish authorities would soon be able to identify the attacker and "reveal the power behind him."
A total of 12 suspects have been detained in Istanbul over their suspected links to the nightclub attack, press reports said.