Chinese, Chilean academics putting heads together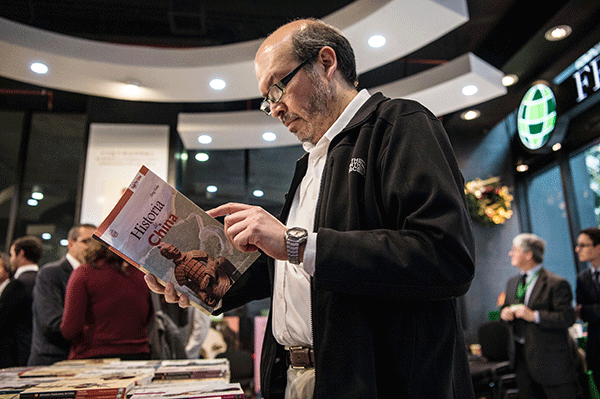 A Chilean visitor peruses a book on China's history at a Chinese book fair that opened on Wednesday in Santiago. The book fair will last for one month. [Photo by Jorge Villegas/Xinhua]
Chinese scholars and researchers held a seminar with their Chilean counterparts on Wednesday to discuss working more closely and providing policymakers in both countries with insightful advice.
Key subject matter for the meeting at the Instituto de Chile in Santiago included economic development, coping with challenges that come with growth, and pushing bilateral relations to new heights.
Leading a group of scholars from the Chinese Academy of Social Sciences, academy President Wang Weiguang called for more cross-disciplinary communication and exchanges with his Chilean colleagues.
It has been 46 years since China and Chile established diplomatic relations, he said, calling the seminar an important sidebar to Chinese President Xi Jinping's state visit to Chile. This week, Xi visited Ecuador and Peru before Chile, and was scheduled to depart for his return trip to Beijing on Wednesday.
Chinese and Chilean officials signed 12 agreements on Tuesday to enhance cooperation in many areas, and bilateral economic ties have grown extensively.
"We in academic circles should carry out more comprehensive and well-rounded research projects together," Wang said. "As scholars and observers, we will work harder to improve foreigners' understanding of China, to let more people in other cultures know about China, understand China and ultimately like China."
Luis Merino Montero, president of the Instituto de Chile and chairman of the seminar, encouraged more communication between Chinese and Chilean research institutions. The institute, formed over 50 years ago, is charged with advancing arts and sciences.
"As the first country in Latin America to establish diplomatic relations with New China, Chile has never ceased its communication and conversation with China," Merino said.
"The exchanges will only become more vigorous and robust following President Xi Jinping's state visit to Chile this week," he added.
Also in Santiago, a Chinese book fair was opened on Wednesday. Popular titles included Xi Jinping: The Governance of China.
Zou Shuo contributed to the story.
Contact the writer at junechang@chinadailyusa.com