Chinese, Latin American media urged to cooperate
Xi asks agencies to join forces to help provide fuller image to the world as they bolster relations
President Xi Jinping urged Chinese and Latin American media agencies to jointly expand their influence and introduce a more realistic image of China and Latin America to the world.
Xi and his Chilean counterpart, Michelle Bachelet, gave speeches Tuesday at a meeting of Chinese and Latin American media executives in Chile's capital, Santiago.
"The success of this first ever summit is a breakthrough in the history of professional exchanges between Chinese and Latin American media," said Xi, adding media cooperation and communication are important to the China-Latin America relationship.
"Media on both sides can play an important role in inheriting and pushing forward the course of China-Latin America friendship," Xi said.
Media in China and Latin America should consolidate and expand existing projects and join efforts to increase the authority and power of their influence, Xi said.
"A more vivid image of China and Latin America then could be unfolded in front of the world," he said.
The Chinese president said that the agencies should jointly speak up on major issues such as world peace and development.
He said they should also help boost pragmatic cooperation between China and Latin America, enhance the enthusiasm for and confidence in cooperation, and promote innovative cooperation models.
Xi said Chinese and Latin American media should learn from each other and take media exchanges and cooperation to higher levels.
China has already announced it will set up a center for Chinese and Latin American media exchanges and invite some Latin American journalists to work and study in China, he said.
Over the next five years, China is also going to train 500 media workers from Latin American countries, Xi announced.
Huang Kunming, executive deputy director of the Publicity Department of the Communist Party of China Central Committee, also urged media circles in China and Latin America to work together and help to push China-Latin American relations into a new era.
Xi has visited Latin America three times, has had frequent meetings and close contact with Latin American leaders at major international conferences and occasions, and has reached a large number of consensuses on a range of issues of common concern, Huang said.
Xinhua contributed to the story.
junechang@chinadailyusa.com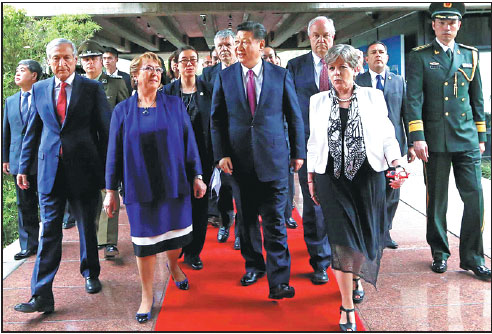 President Xi Jinping (center) and his Chilean counterpart, Michelle Bachelet (front, second from left), attend the China-Latin America Media Summit in Santiago, Chile, on Tuesday.Carlos Vera/ Reuters