China, Chile seek to upgrade FTA
'True neighbors' ink deals on astronomy, finance, education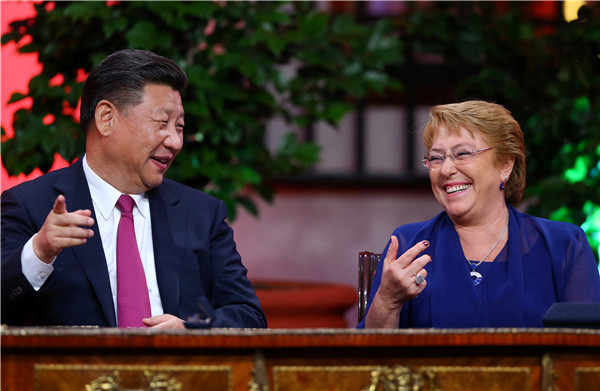 President Xi Jinping and Michelle Bachelet, Chile's president, share a light moment before bilateral agreements are signed at the government house in Santiago, Chile, on Tuesday. [Photo/Agencies]
China and Chile agreed to begin negotiations on deepening a free trade agreement signed in 2005, as President Xi Jinping made his first state visit to the Latin American country.
The agreement was among the 12 cooperative documents signed on Tuesday to enhance cooperation in areas including astronomy, finance, education, agriculture and trade.
"An upgrade of the FTA between Chile and China will give two-way economic and trade cooperation a strong boost," Chilean President Michelle Bachelet said on Tuesday while meeting with Xi.
Chile welcomes Chinese enterprises to increase their investments in the Latin American country, she said, adding that her country is willing to join the China-led Asian Infrastructure Investment Bank as soon as possible.
The agreements also include jointly establishing and operating an astronomy base in Chile and setting up a Chinese culture center in Santiago.
Xi said after the signing ceremony that he had invited Bachelet to make a state visit to China next year, as the two countries move forward to boost mutual political trust and enhance high-level exchanges.
"Chile is close to China in the countries' alphabetic rank, and we are true neighbors," he said.
China has never changed its confidence in the potential for Latin America's development, Xi said, adding that Beijing firmly supports Latin American countries' efforts to safeguard regional peace and unity.
Bachelet said the agreements will bring more practical cooperation to the two countries.
Thanks to the FTA, as much as 97 percent of Chile's exports to China are free of tariffs now, she said.
In June, China Construction Bank, one of China's largest banking institutions, opened a branch in Santiago, which is the first clearing bank for renminbi transactions in South America.
The bank will facilitate Chinese financing for Chilean projects, Bachelet said.
Chile was the first Latin American country to sign a bilateral free trade agreement with China. In 2014, bilateral trade volume reached $34.15 billion, almost five times the amount at the time the agreement was signed.
China, which was Chile's 25th-largest trading partner before the FTA agreement, is now its biggest trade partner.
Last year, although overall trade volume declined to $31.9 billion because of the global economic downturn, Chile's exports to China still accounted for more than one-fourth of its total.
Liu Rutao, the economic and commercial counselor of the Chinese embassy in Chile, highlighted the economic and trade cooperation between the two countries.
A new level of free trade will introduce e-commerce, trade in services and more scientific inspection and quarantine into the traditionally commodity-heavy trade, Liu said.
Xu Shicheng, a senior researcher of Latin American studies at the Chinese Academy of Social Sciences, said the Chinese and Chilean economies are highly complementary, providing much opportunity for bilateral cooperation.
China has advantages in such areas as infrastructure construction capacity, manufacturing, steel production and equipment, which are needed in many Latin American countries, including Chile, he said.