President inspires exhibition comparing ancient civilizations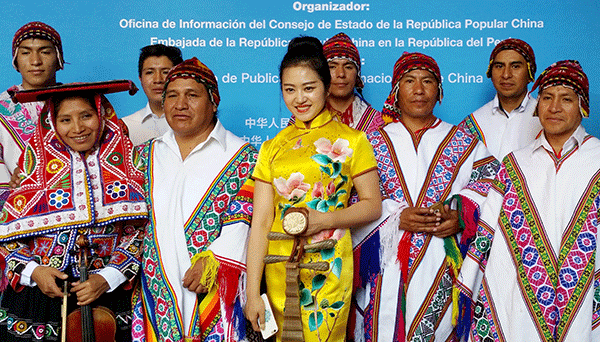 Peruvian and Chinese performers finish a rehearsal for a show at the National Museum of Archaeology, Anthropology and History of Peru on Sunday in Lima. [Photo provided for China Daily]
Ancient civilizations have had a deep influence on China and many Latin American countries.
While Chinese civilization appeared some 5,000 years ago, a series of pre-Columbian civilizations ruled in what is now Latin America. Three of the most prominent were the Maya, Aztec and Inca.
The oldest of these three, the Maya, dates to 1,800 BC, but their cities were abandoned about AD 900. The Aztec and Inca empires were conquered by the Spanish in the 16th century.
It's much easier to visualize their stories thanks to an exhibition opened in Lima on Monday as President Xi Jinping visited Peru.
"The Long River of Civilizations: Mutual Learning Between the Civilizations of China and Latin America" opened at the National Museum of Archaeology, Anthropology and History of Peru.
It's part of a series of programs for the China-Latin America and the Caribbean Cultural Exchange Year 2016 and the recently concluded Asia-Pacific Economic Cooperation meeting.
The exhibition highlights notable developments in the areas encompassed by modern-day China and Latin America from the earliest traces to the 1800s. It is the product of three years' work by Professor Wang Qijun of China's Central Academy of Fine Arts, and more than 20 researchers and experts from the Latin American Institute of the Chinese Academy of Social Sciences and from Latin American countries.
Wang's inspiration came from a speech given by Xi at a UNESCO meeting a few years ago, according to Yu Jiutao, publisher of China Pictorial magazine and the project organizer. At that meeting, Xi had said, "Civilizations will be more colorful and rich through mutual exchange and learning."
Xi's appreciation of the development of human civilization moved Wang, who began his work with other scholars and experts.
The exhibition takes the form of a traditional Chinese painting. It shows great historical events and artistic objects, photographs, images and information.
It showcases 360 traces of civilization and cultural relics by national category, 13 of which are from Peru. Yu said a lot of architecture, landscapes and relics of Chinese civilization are represented by hand drawings by the renowned professor Wang Qi of the Central Academy of Fine Arts.
"These works reflect the charm of Chinese civilization and, above all, overcome the limitations of a photograph. ... We are convinced that these beautiful drawings will be a new experience for visitors," Yu said.
Contact the writer at mayzhou@chinadailyusa.com