First lady welcomed by school 'friends'
First lady Peng Liyuan was hosted on Monday by a Lima school steeped in Chinese culture, devoted to Chinese-Peruvian integration and equipped in part thanks to Chinese funding.
Students at the Colegio Peruano Chino Juan XXIII in the Peruvian capital sang the folk song Jasmine Flower (Molihua in Chinese) to welcome Peng when she arrived in the morning. They entertained her with lion dances, kung fu demonstrations, fan dances and a costume show.
Peng, who is accompanying her husband, President Xi Jinping, on his South American visit, extended her best wishes to the school and said she looks forward to its continued success. Instruments, stationery and sports equipment have been donated to the school by China.
China would like to enhance cooperation with Peru to provide better basic education facilities as part of joint efforts to educate the young, she said. Peng added that the school will help contribute to strengthening China-Peru friendship.

During her visit, kindergartners sang Chinese songs. Among its cultural offerings, the school teaches Chinese, kung fu, and Chinese traditional dance. She then observed high school students during a Chinese language lesson.
The school aims to become an institution that champions quality in education "for the full formation of the person, valuing both Peruvian and Chinese culture, and is committed with the new age to change reality with equity and solidarity", according to the school's website.
"We are an internationally accredited private school inspired by Chinese-Peruvian integration and based on the pillars of Christian spirituality, academic excellence and ethno-cultural integration," the website adds.
The school was founded in 1962 at the initiative of Bishop Orazio Ferruccio Ceol, who accepted the invitation of Pope Pius XII to come to Peru as a missionary to the Chinese community after 19 years in China. It was Pope John XXIII who authorized the first financial contribution for the school's construction.
Peng, a renowned singer and music professor, has visited a number of schools in recent years while accompanying Xi.
In March 2014, Peng visited the Burg-Gymnasium high school in Essen and attended a Chinese language class during the president's state visit to Germany.
Peng told the German students that her Chinese dream is to enable all children, especially girls, to have access to a good education. Inspired by Peng, one of the students, Maximilian Volges, traveled to South China's Guangxi Zhuang autonomous region as a volunteer to teach English to rural students after graduation this year.
anbaijie@chinadaily.com.cn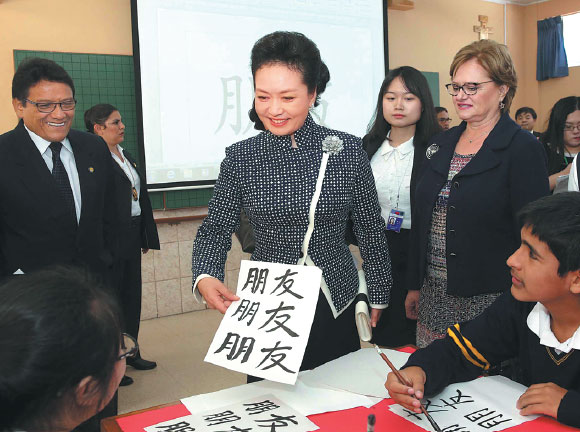 First lady Peng Liyuan watches Peruvian students practice Chinese calligraphy as she visits the Colegio Peruano Chino Juan XXIII school on Monday. Peng holds a sample where students have written the Chinese characters for pengyou, which means friend. Ding Lin/ Xinhua
(China Daily 11/23/2016 page3)