Beijing aims to stimulate Latin American growth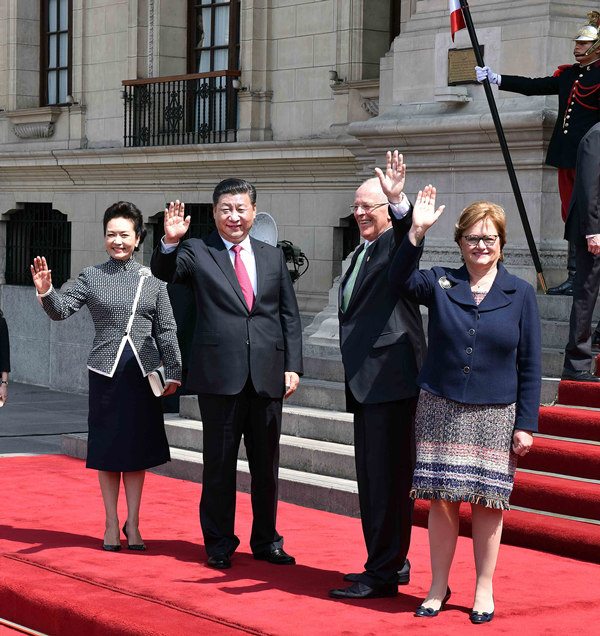 President Xi Jinping and first lady Peng Liyuan join Peruvian President Pedro Pablo Kuczynski and first lady Nancy Lange outside the presidential palace in Lima, Peru, on Monday. GUADALUPE PARDO / REUTERS
Technology transfers and training in region will be enhanced, Xi says
President Xi Jinping announced several measures on Monday to share China's development opportunities with Latin American countries.
In a speech to Peru's Congress, Xi, who is on his third visit to Latin America as head of state, said China will enhance technology transfers to Latin American countries and boost human resource cooperation with the region.
In the next three years, China will train more Latin Americans in various fields and invite Latin American journalists to work and study in China, Xi said.
The president added that China has proposed a roundtable discussion about environmental protection with Latin American countries next year.
Xi is making state visits to Ecuador, Peru and Chile during his visit, which started on Thursday. He was to fly to Chile, the last stop of the visit, on Tuesday.
In his speech, Xi urged Chinese investors to respect local traditions, abide by laws and shoulder their social responsibilities in promoting employment when companies expand overseas.
China will provide more opportunities for developing countries and firmly supports a stronger voice for developing countries in global governance, the president said.
He called on Latin American countries to participate in free trade arrangements in the Asia-Pacific region and to oppose all forms of protectionism.
Before giving the speech, Xi met with Luz Salgado, president of Peru's Congress, and was given the Medal of Honor by Congress.
Peru would like to enhance cooperation with China in areas including trade, investment and infrastructure, Salgado told Xi.
Bilateral trade volume between China and Latin America rose more than twentyfold during the past decade to reach $236.5 billion last year.
China is now the second-largest trade partner and third-largest investment source for Latin America, while Latin America is China's seventh-largest trade partner.
Xi's state visits to Ecuador, Peru and Chile show that China is eager to strengthen ties with Latin America, Venezuelan political analyst Vladimir Adrianza told Xinhua News Agency.
China represents both an excellent development model for countries in the region and an attractive incentive, said Adrianza, who teaches at Bolivarian Military University of Venezuela in Caracas.
"A growing China-Latin America relationship can help promote multilateral and global development," he said.
Su Xiaohui, a researcher of international strategy at the China Institute of International Studies, said Xi's three trips to Latin America show that China will never forget its friends in developing countries.
China is active in providing public services and products for developing countries, which will bring prosperity to these countries, she added.