Landscapes stand as focal point of exhibit in Quito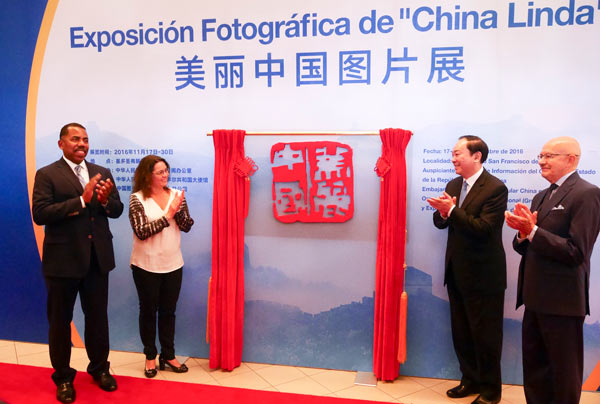 Huang Kunming (second from right), executive deputy head of the Publicity Department of the CPC Central Committee, and Ecuadorean officials attend the opening ceremony for the Beautiful China Photo Exhibition at the Universidad San Francisco de Quito in Ecuador on Thursday. AMY HE / CHINA DAILY
A new China-themed photo exhibition was unveiled at the Confucius Institute at the Universidad San Francisco de Quito on Thursday, focusing on China's natural landscapes, cultural history and developmental growth.
"This exhibition focuses on the oneness of man with nature, showcasing China's landscapes through these beautiful photos," said Huang Kunming, executive deputy head of the Publicity Department of the Communist Party of China Central Committee.
The photos will give viewers a sense of China's rivers and mountains, its long histories and traditions, and the current growth the country is experiencing, he said.
The nature focus shows that "the Chinese people respect nature, let nature take its course, and wants to protect nature", Huang added.
Huang said he wants the exhibit to serve as a window to better understanding the beauty and variety of China and its flourishing development in the modern age.
"There's a saying in Chinese that goes, 'Seeing once is better than hearing a hundred times,' so we hope that through this exhibit we can honor the two countries' interactions, let more Ecuadorians-particularly the youth-understand China, especially the uniqueness of China's culture and Chinese people's sincere friendliness," he said.
Huang spoke in the morning before President Xi Jinping arrived in Ecuador, his first stop in Latin America before he travels to the APEC Economic Leaders' Meeting in Lima, Peru, this weekend.
Making Ecuador his first stop in the region shows that China values its traditions with Ecuador and the growing bilateral ties, Huang said.
The founder and president of the university said during the ceremony that its Confucius Institute-established by Professor Jose Salazar Carbonell-has seen more than 1,500 students from across Ecuador pass through in the six years since its creation.
The university has sent more than 230 students to study at Peking University through scholarships, where they majored in finance, Chinese-language teaching and Chinese philosophy, said Santiago Gangotena Gonzalez, president of the university.
"Establishing the Confucius Institute with the help of the Chinese government helped contribute to Ecuadorians' understanding of China and helped promote the learning of Mandarin," he said.