Chinese and Russian: Cementing ties with language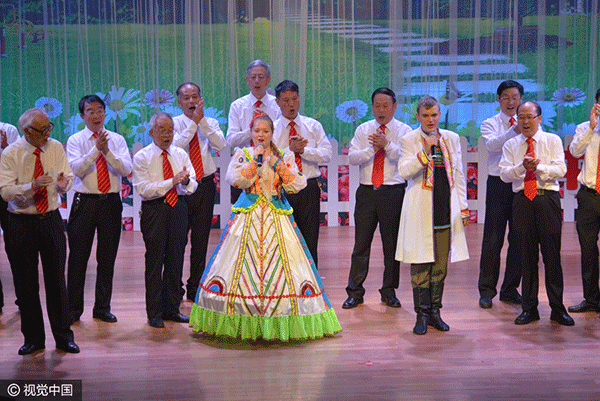 Chinese and Russian chorus sing "Katyusha" in Shanghai on October 20, 2014. [Photo/VCG]
Russian folk songs such as "Katyusha" and "Moscow Suburbs Nights" are still etched in the memories of Chinese people born in the 50s and 60s. The historical friendship between the two countries drove many of the older generation to learn Russian and explore the culture behind the language.
Sixty years later, Russian is becoming popular again in China, as commercial exchanges between China and Russian-speaking countries deepen.
In the meantime, people in Russian-speaking countries such as Russia, Kyrgyzstan, Kazakhstan, and Latvia are showing keen interest in learning the Chinese language.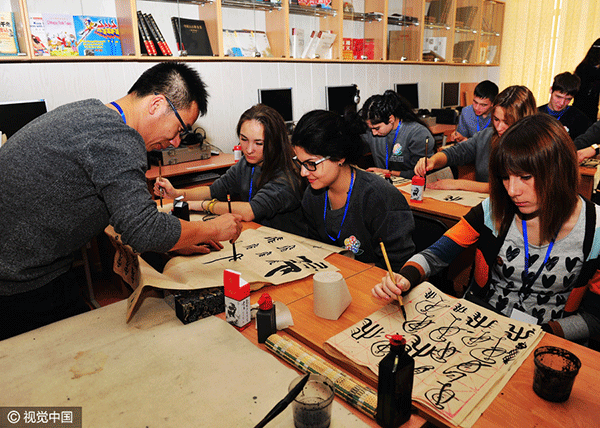 Students of Confucius Institute learn Chinese calligraphy in Russia on October 22, 2013. [Photo/VCG]
Russia, Kyrgyzstan, and Kazakhstan are all important countries along the Silk Road with Russian as official language. Membership of the Shanghai Cooperation Organization (SCO) and Belt and Road Initiative has brought massive China-related job opportunities to these countries with Chinese-speaking talents in heavy demand.
Chinese has been listed as a test subject in Russia's Olympiad Competition for middle school students. The country's college entrance exam in Moscow, St Petersburg, Far East and Khabarovsk region also have included Chinese as a subject. People in Kyrgyzstan prefer China to Europe, the US, or Russia when they choose a destination for studies. "Mastering Chinese guarantees a good job," say Kyrgyzstanis.
Kazakhstan Deputy Prime Minister Dariga Nazarbayeva said on February 5 that Kazakh children should learn Chinese in addition to Kazakh, Russian, and English. Chinese study is also in full swing in Latvia, the first country to start Chinese language teaching in the Baltic.