Half a century of protecting China's border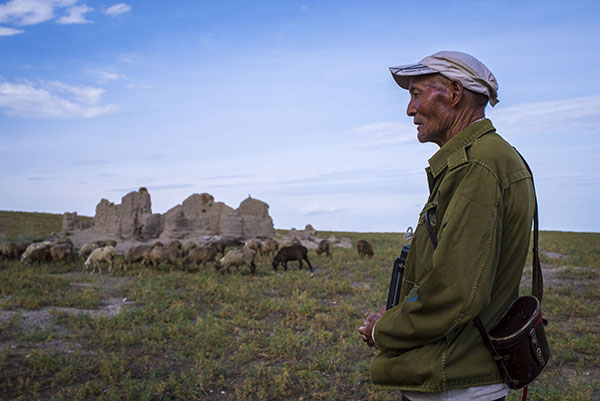 Wei and his sheep are often only living souls on the "no-man's land". Photo by Jiang Wenyao
Herdsman has dissuaded more than 1,000 people who were attempting to cross the border between China and Kazakhstan.
Every morning Wei Deyou lets his hungry sheep out of their pen on the grasslands of the Xinjiang Uygur autonomous region, but the 76-year-old is no ordinary herdsman - he has been guarding the Chinese border for 52 years.
Just eight kilometers to the west of Wei's house stands China's No 173 boundary marker with Kazakhstan.
Every day he grazes his sheep on the Saerbulake grassland near the barbed wire that separates the two countries. Wei calls it his routine patrol.
His house doesn't have a number, because Wei and his wife are the only people who still permanently reside in the 50-square-km border area.
To keep an eye on anything suspicious, he always carries a pair of binoculars, as well as an old radio for entertainment and a rusty military kettle to keep him hydrated.
The binoculars are more than 30 years old and were a gift from a soldier back in the 1980s. The radio is his 50th, the others having broken because of the harsh environment.
For outsiders, the grassland has stunning views in the summer. But Wei knows that the warmer temperatures bring mosquitoes that bite through his clothes, while each winter, blizzards from Siberia bring meter-deep snow, hampering travel for three months of the year.
Wei was a soldier once, and still thinks of himself as one.
He came to Saerbulake in 1964, when the government called on retired servicemen to join the Xinjiang Production and Construction Corps and guard the country's frontier while farming and herding.
The visible hardships initially scared Wei's wife Liu Jinghao when she came to join him from Shandong province. She wanted to go home, but touched by Wei's sincerity, she eventually agreed to stay.
"Now we aren't going anywhere. We will spend our whole lives here," Liu said.
More than five decades after first moving to their section of the border region, Wei and Liu are the only ones left.
Many have repeatedly asked Wei: "How could you persist in this no man's land for so long? Don't you ever think of leaving like others?"
"I believe it is my responsibility to watch the land and I made a promise when I first came here. I am just a stubborn man," he said.
Each day, Wei walks along the border for more than 10 kilometers - he reckons the distance he has covered over the years would equal circling the earth five times.
Since he first arrived, he has dissuaded more than 1,000 people from illegally crossing the border, and has helped send back many thousands of animals that strayed across.
Wei has long been familiar to frontier soldiers and police officers who benefit from the information he constantly provides.
He used to personally visit them on horseback to file his reports, but a mobile phone now saves him such trips.
Although the border defense force has installed surveillance cameras in the area, they still value Wei's intelligence because he knows every inch of grass at his feet and every hilltop within sight.
There are about 70 herdsmen like Wei who volunteer to watch the borders in Saerbulake.
As the biggest region in China, Xinjiang contains about 25 percent of the country's land borders. Local herdsmen and farmers living near the border have become a major force in protecting it.
According to Xinjiang border defense force, more than 80 percent of irregularities in the border areas are first reported by locals, who they nickname the "eagle eyes".
In July, Wei was watching his sheep grazing on a hill when three white vans came dashing toward the border. He instantly called the border control office, which later confirmed that they were photographers chasing birds.
"I am just an ordinary person who didn't really do anything big. Only by doing this can I find my heart at ease," Wei said.
cuijia@chinadaily.com.cn