US sanctions Russia over alleged election hacking, Moscow threatens to retaliate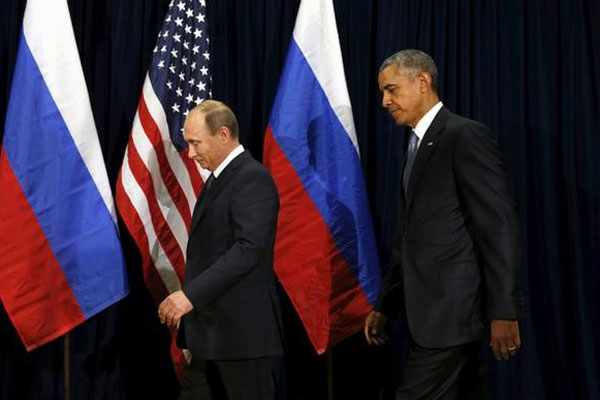 US President Barack Obama and Russian President Vladimir Putin walk into a photo opportunity before their meeting at the United Nations General Assembly in New York September 28, 2015. [Photo/Agencies]
WASHINGTON -- Three weeks before leaving office, US President Barack Obama on Thursday struck back at Russia over alleged election hacking in a move to box in his successor Donald Trump who had so far showed willingness to work with Russia.
Nine Russian entities and individuals, including two Russian intelligence services, were sanctioned for their alleged interfering with the US election, Obama said in a statement.
In addition, the US State Department on Thursday announced expelling 35 Russian government officials from the United States, calling them "acting in a manner inconsistent with their diplomatic status."
Two Russian government-owned compounds, one in US State of Maryland and one in New York, would also soon be shuttered, according to the State Department.
Dmitry Peskov, spokesman for Russian President Vladimir Putin, said that Moscow regretted the new sanctions and the measures signaled Obama's "unpredictable" and "aggressive foreign policy."
According to Russia's Interfax News Agency, Peskov said that the dual aims of the White House were "to ruin once and for all Russian-American relations" and "to strike a blow against the foreign-policy plans of the future administration and the new US president."
The Obama administration in October officially blamed Russia for hacking US political institutions and persons to interfere with the US election process, an accusation immediately dismissed as "nonsense" by Moscow.
The episode reached its climax early this month when the US daily Washington Post uncovered a secret Central Intelligence Agency (CIA) assessment report in which the agency claimed that Russia's meddling in the US election was aimed at helping Republican Donald Trump win the White House.
According to the CIA assessment, Russians were believed to have hacked both Republican and Democratic organizations, though only damaging documents from Democrats were leaked to the public.