Obama reflects on election, says he could have won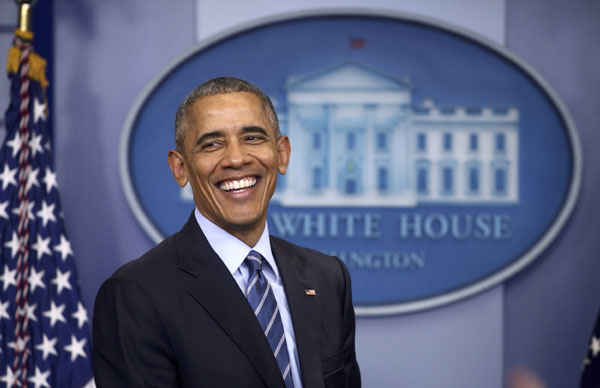 US President Barack Obama smiles as he speaks to journalists during his last news conference of the year at the White House in Washington, US, December 16, 2016. [Photo/Agencies]
WASHINGTON -- In an interview released Monday, US President Barack Obama said he could have won the November presidential election if it was he who faced Donald Trump.
"I am confident that if I had run again and articulated it, I think I could've mobilized a majority of the American People to rally behind it," Obama said.
Obama made the remarks during an interview with CNN, in which he reflected on the presidential election last month and its implications and lessons.
"I think there was a double standard with her," Obama said of Democratic candidate Hillary Clinton. "For whatever reason, there's been a longstanding difficulty in her relationship with the press that meant her flaws were wildly amplified."
"The problem is that we're not there on the ground communicating not longly the dry policy aspects of this, but that we care about these communities," Obama said, hinting that the Democratic Party may have lost touch with the grassroots.
But Obama maintained that his party "is better for all working people."
Trump later responded to Obama's remarks by tweeting "President Obama said that he thinks he would have won against me. He should say that but I say NO WAY! -- jobs leaving, ISIS, OCare (Obamacare), etc."