Eggs in short supply as South Korea battles worst bird flu outbreak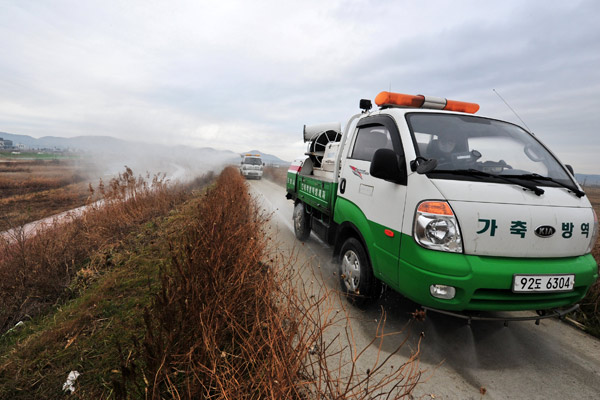 South Korean health officials disinfect a stream which migratory birds stay in winter temporarily, to prevent spread of bird flu, Dec 19, 2016. [Photo/Agencies]
SEOUL - Moon Hong-nam, a pastry chef in Seoul, needs at least 15,000 eggs a day to bake cakes, but after South Korea's worst outbreak of bird flu and a surge in the prices of eggs, he is considering changing his menu.
"We can ride it out through Christmas with what (supplies) we have secured," said Moon, who works at the LèSCARGOT bakery in the South Korean capital. "But if (bird flu) continues until January, we will have to raise prices inevitably and make bakery items that do not need eggs."
About 20 million birds, nearly a quarter of South Korea's poultry stock, have been culled to control the outbreak. Most of the birds culled are egg-laying hens.
The flu has spread in other parts of Asia as well, particularly in Japan.
In South Korea, the average retail price for 30 eggs has risen nearly 25 percent to 6,781 won ($5.68) since the outbreak began on Nov 18, - the highest in more than three years, according to state-run Korea Agro-Fisheries & Food Trade Corp.
According to data from the institution, it is the highest month-on-month increase in egg prices in nearly a decade.
The price hike is putting a dent in the wallets of Koreans, who usually eat more eggs in the winter, including in bread and kimbap, a Korean sushi roll.
Feeling the supply pinch, Lee Sang-hyup, the 55-year-old owner of Jeonju Restaurant, said he has cut down the amount of fluffy steamed eggs served free with the main dish, spicy braised hairtail fish.
"If I can't have enough eggs, then I have no choice but to stop serving it," said Lee, adding that it was the first time since he started the restaurant three years ago that he was rationing portions of the side dish.
Besides the price increases, some stores are restricting egg purchases.
"We are limiting the amount of egg trays each customer can buy to one because of the egg supply shortage, and it seems it will last for five to six months so we will continue to restrict egg purchases for a while," said Lee Won-il, a manager at Nonghyup, one of the country's supermarket chains.
To ease the shortage, South Korea's agriculture ministry is seeking to import egg-laying chickens and eggs from the United States, Spain and New Zealand.
Analysts said the egg shortage is expected to last at least one year as it could take up to two years for egg and poultry industry to raise baby chickens and rebuild flocks.
"Economic losses caused by (avian influenza) is estimated to cost up to 1.4 trillion won ($1.17 billion) if 30 percent of Korea's poultry population gets infected," said Chung Min, ananalyst at Hyundai Research Institute.
CHICKEN SALES
Although egg consumption is likely to be steady despite the higher prices, the bird flu has cut into sales of chicken meat.
Lee at the Nonghyup store said chicken sales had dropped 25 percent since the bird flu outbreak, while pork sales jumped about 30 percent.
Other major discount stores also saw a drop in chicken sales despite discounts. Chicken sales at E-Mart fell 15.4 percent in the first 15 days of December from a year earlier, whereas imported pork sales surged about 85 percent during the same period, according to E-Mart data.
Kim Dong-jin, manager at Korea Poultry Association, said the recent bird flu outbreak poses a serious threat to the poultry industry as it could lose market share to imported chicken meat from Brazil and the United States, while it can't supply enough eggs.