'New farmers' focus on green agriculture
Feng Xiaoyan views herself as a "new farmer", despite being 53 years old. She is contracted to grow organic potatoes on 1,333 hectares of land in her hometown in the northwest province of Shaanxi, and she established her own brand, Sister Potato, in 2009.
"I'm not young, but I think like young people in the internet age," Feng said at the ongoing 2016 China Yangling Agricultural Hi-Tech Fair in Yangling district, a high-tech agricultural zone in Xianyang.
Food safety in China has been questioned due to the overuse of pesticides, fertilizers and chemical additives. Feng, seeing an opportunity for the transformation of Chinese agriculture, decided to plant eco-friendly potatoes to international standards.
Feng was a teacher for eight years in her hometown in Zizhou county before she worked as a government official in Tongchuan from 1990 to 1994.
Feng said the quality of her potatoes is the major reason for her success. From the beginning, she brought in the best potato varieties in the world and employed experts from home and abroad to ensure she used the most sophisticated planting techniques.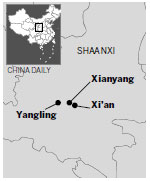 She also takes advantage of social media to promote her products.
"Using microblogs as a free advertising platform helps us attract more customers," Feng said.
A Ministry of Agriculture report shows that China has about 2 million new farmers who sell their produce on popular online platforms such as Taobao, Weibo and WeChat.
Compared with traditional farmers, they are generally well-educated. Some even have an overseas education.
Wang Xiaotie, a graduate from Yangling-based Northwest Agriculture and Forestry University, is one such new farmer.
In 2012, he gave up his job as the general manager of a vegetable export company in Beijing and went back to Yangling, a testing ground for new agriculture technology.
"Organic agriculture and circular agriculture are not new terms, but are inherited from the wisdom of our ancestors. We only have to observe the laws of nature to plant high-quality fruit," Wang said.
Wang has a kiwi orchard covering 33 hectares. To ensure that all his kiwis are organic, Wang built a fence around the orchard to separate it from surrounding farmland.
"We use organic fertilizer - cow dung and sheep manure - from the Inner Mongolia autonomous region in our orchard," Wang said.
Last month, his kiwis won organic certification from the United States, the European Union, Japan and China.
Du Zhixiong, a research fellow at the Chinese Academy of Social Sciences, said he is not sure if all produce from the new farmers is up to the standards of "organic produce", but praised the ambition of such farmers.
"Organic produce has become a symbol and an aim of Chinese new farmers," he said. "In this sense, they are contributing to the country's food safety."