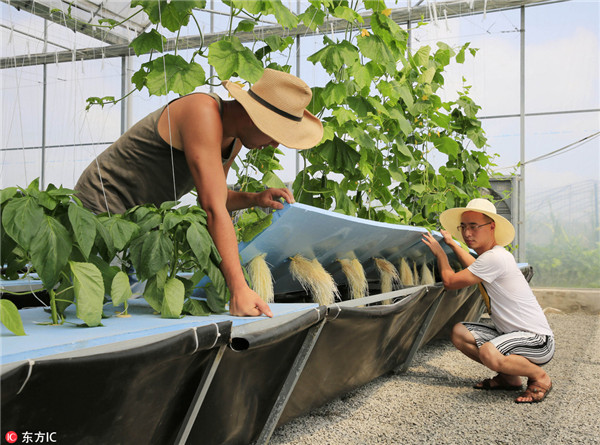 People check on plants in an eco-farm in Nantong,Jiangsu on August 7, 2016. [Photo/IC]
The Agricultural Development Bank of China, one of the country's main policy lenders, agreed to loan at least 3 trillion yuan ($450 billion) by 2020 for the modernization of China's agriculture industry, state media said on Sunday.
The Ministry of Agriculture and the bank, which lends in line with government policy, signed an agreement to protect national food security, support the sector doing business overseas and develop China's seed industry, according to Xinhua news agency.
It was not immediately clear whether this commitment is separate from the bank's plan announced in May to lend 3 trillion yuan for poverty reduction via agricultural investments.
The move reported on Sunday also aims to increase the agriculture industry's efficiency and foster rural income growth.
The Agricultural Development Bank of China will be responsible for managing financial services, including offering financial products and setting interest rates, said Xinhua.
Chinese state-owned company ChemChina earlier this month extended its offer to buy Swiss pesticides and seeds group Syngenta for $43 billion, a deal which sparked food security concerns in the US, though it later cleared regulatory hurdles there.