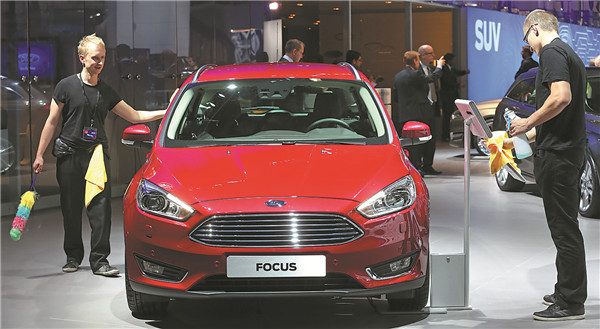 A Ford Focus is presented at the Paris Motor Show in Paris in October 2014. REMY DE LA MAUVINIERE/AP
Ford Motor Co and Rolls-Royce are among the companies skipping the Paris Motor Show, as the once-unmissable event succumbs to changes sweeping the industry. Instead of shelling out millions to woo consumers to crowded exhibition centers, carmakers are reaching out to buyers where they like to spend time - on Instagram, blogs and the beach.
"There used to be the feeling that you had to be at every motor show," said Andy Palmer, chief executive of cer of Aston Martin Lagonda Ltd, which is also snubbing the Paris event later this month. "But there are sometimes better ways of doing it than just always spending money on show after show after show."
Volvo Cars won't be in Paris either, as it scales back on car shows globally to market more directly to buyers. Most of BMW AG's top executives will be at a board meeting discussing electric-car strategy rather than trumpeting about the models available now. Volkswagen AG will rein in spending at the show, dispensing with its opulent Group Night gala event and a stand for its Lamborghini supercar unit.
Participating at a car exhibition can cost millions of dollars as brands try to outdo one another. Audi spent more than 10 million euros ($11.2 million) to erect a temporary pavilion, complete with indoor track, at the 2011 show in Frankfurt, which alternates with Paris as the industry's annual marquis event in Europe. Celebrities such as Justin Timberlake are often hired to appear at car-show events and stands typically feature an array of freebies for visitors.
Porto Cervo's beach
The massive exhibitions, which rose to prominence when the car was the ultimate symbol of individual freedom and success, are losing out as manufacturers increasingly find that leggy models and loud music aren't the best way to sell cars. While the costs of the elaborate stands are a factor, changing consumer behavior and the evolution of cars into computers on wheels are prompting automobile marketers to hunt elsewhere.
Ford said it's "taking a new approach to marketing in France," inviting consumers to one-day test drives across the country this summer instead of exhibiting at the Paris show. Europe's thirdbiggest car brand is boosting investments in such "experiential marketing" by 50 percent this year and is also spending more time at technology-focused events, such as Paris's Le Web conference on digital innovation.
Rolls-Royce this summer treated fans to cocktail parties, test drives and fashion viewings at the beach in the ritzy Porto Cervo bay in Sardinia, Italy. Some events were tailored for bloggers and Instagramers who then shared photos, videos and opinions online.
Mitsubishi Motors Corp, which will be at Paris, is also trying to appeal to buyers not motivated by sitting in a stationary car at a crowded stand. The Japanese carmaker developed a website that lets users take a virtual night-time test drive of the new Mirage G4 sedan on their smartphones.
Lamborghini snub
To be sure, car shows remain a top draw for car fans. Attendance at the 2016 Detroit exhibition, North America's biggest, totaled more than 815,000 people, the highest since 2003. Frankfurt reported a rise in 2015 ticket sales compared to the previous event, and the Paris show in 2014 attracted 1.25 million visitors, making it the industry's most popular showcase. This year's edition will attract the likes of Mercedes-Benz, Ferrari and Jaguar. But foot traf c at stands doesn't necessarily translate into sales.
"We are revising our strategy" concerning auto-show attendance, a Lamborghini spokesman said by e-mail. "The world is continuously changing," and the supercar maker "intends to anticipate these changes".