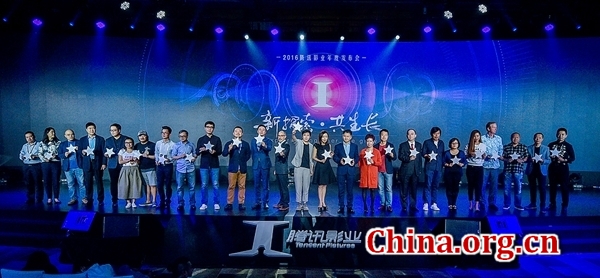 Executives and collaborators pose for photographs on stage at the annual press conference of Tencent Pictures to announce 21 film and TV projects in Beijing on Sept. 17, 2016. [Photo/ China.org.cn]
Founded by one of China's largest internet company Tencent just one year ago, Tencent Pictures has plans for films based on books, comic books, animated series and video games.
Cheng Wu, vice president of Tencent and CEO of Tencent Pictures, said at its annual press conference that four key words had been selected to sum up the direction in which the studio plans to move.
"First, it's 'young.' We hope our films can have young subjects and styles, fit young people's ideas and new thoughts; Second, it's 'unique.' We hope our films can have exclusive creativity and can give people surprise; Third, it's 'high-quality.' We don't make rubbish films no matter how big or small the investment involved; Fourth, it's 'connecting.' We hope to build all other elements around various intellectual property brands, including literature, comics, video games, stage drama and merchandise. Meanwhile, we'd love to work with domatic and foreign partners."
Tencent Pictures had great success by co-developing the American action-fantasy film "Warcraft" directed by Duncan Jones with Legendary Pictures owned by the Wanda Group. The film made US$221 million in China alone this year. "Kong: Skull Island" will be its another collaboration with Legendary Pictures, a story seeking continuity between the worlds of King Kong and Godzilla. It is set for release in March 2017.
"The Grudge" producer Takashige Ichise will work with Tencent to produce a theatrical version of "Koseidon," based on a popular Japanese Tokusatsu TV series "Dinosaur Corps Koseidon" produced by Tsuburaya Productions. The TV series was once introduced in China, in 1988, and leaving deep childhood memories for China's 1970's and 1980's generations.
Tencent has also acquired the licenses to adapt "The Tibet Code" into TV series and video games. "The Tibet Code" is a series of fantasy adventure novels written by He Ma that have sold 10 million copies in China. The novels follow an expert on Tibetan Mastiffs, and his mentor, as a mysterious letter pulls them into a convoluted search for a hoard of Buddhist treasure hidden during the persecution of the 9th century Tibetan emperor Langdarma.
Elements of Tibetan culture, geography, and mythology are prominent, alongside modern aspects of intrigue and globetrotting.
Other eye-popping film and TV projects being developed by Tencent include "The Game of Antiques," a film based on writer Ma Boyong's novel; an animated feature "The Tuski 3D" based a highly popular cartoon emoticon of a lazy bunny created by Momo Wang; "Fighter of The Destiny," a fantasy TV series epic based on an internet novel by Mao Ni; "Asura," a film based on Tencent's popular MMORPG game; "Pathfinder," an original science fiction film by China's famous sci-fi screen writer Zhang Xiaobei; "100,000 Ways to LMAO 2," a sequel to the top grossing animated comedy based on internet cartoon series; as well as famous Chinese director Lu Chuan's new film with a working title of "20,000 Miles Plan," which will be made as a pan-entertainment project, including literature, cartoon, games and more.
Tencent Pictures CEO Cheng Wu added:"Regarding filmmaking, the biggest investment will forever be 'patience,' as you have to be patient to develop a good project. The film industry is at the new starting point, and the high-quality works ensure your future."
"The Dark Knight" trilogy screen writer David S. Goyer also attended Tencent's conference and announced he would work with the Chinese studio to explore original content in China and the domestic market. He also added that, even though there's barrier and gap in cultures and languages, worldwide audiences should have the same humanity and value to understand a good story.
Besides film and TV projects, the newly-rising Tencent Pictures will initiate projects to fund and nurture new talents, team up with filmmakers to establish studios to create more original contents, as well as step into artist and repertoire business.