Kilimall Black Friday sale soars by 300%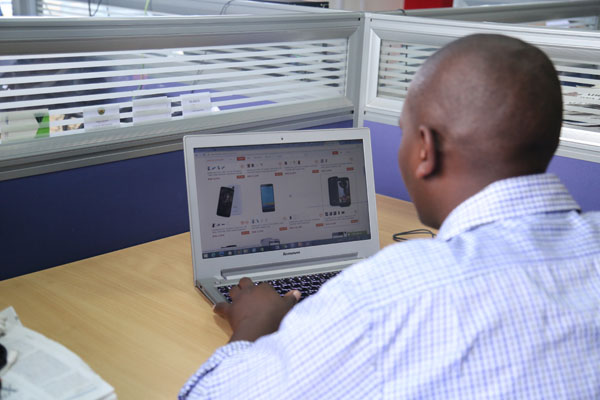 Online shopping is witnessing a huge surge in Kenya as it's convenient and provides products at affordable prices. [Photov by EDITH MUTETHYA/CHINA DAILY]
Deals extended to allow Kenyans to enjoy affordable shopping ahead of Christmas
Shanghai-based online shopping mall, Kilimall's Black Friday sale soared this year, growing three times more compared to last year.
The company's sales from Black Friday, a shopping festival marked on November 25, grew by 300 percent from 2015, as more Kenyans took advantage of huge discounts on various products.
Robin Xie, the Kilimall managing director, attributed the growth to increased uptake of e-commerce by Kenyans and Kilimall's quality products, affordable prices and fast delivery. "Trust in online shopping is growing and [that is] expanding e-commerce," he said.
The most popular items, he said were smartphones, clothes as well as home appliances, which accounted for 90 percent of sales. Some of the top selling brands included Infinix, Samsung, Cubot and Gionee smartphones as well as Bata footwear products.
"Most products achieve an average of 500 orders per day on Kilimall, providing a powerful retail channel for merchants," said Xie.
According to the company's report, 50 percent of the shoppers paid online, an indication that Kenyans are leading in embracing e-commence in Africa. "Online payment will benefit the entire supply chain and e-commerce industry in future," said Xie.
He added that sales were boosted by, among other things, more variety of products and faster delivery, noting that Kilimall has achieved the same-day delivery target. "It's clear online shopping has become the best alternative for Kenyans because it's convenient and provides products at affordable prices," he said.
Xie said Kilimall has extended the Black Friday offers to December 4, as part of Cyber Monday, another round of shopping deals. "Shoppers who missed Black Friday or didn't enjoy enough deals also have chance to gain crazy deals on Cyber Monday between November 28 to December 4," he said.
Delivery timelines depend on the category of item ordered. Local products labeled FBK (Fulfilled by Kilimall) take two-three days to be delivered. Those from merchants, labeled Drop Shipping (with a water drop mark) take three-five days while those from global merchants (with airplane icon) are delivered within 30 days.
Global shopping, Xie said, enables shoppers to buy products overseas via the online shopping mall and have them shipped in a period of 21 days. "With drop shipping, products are stocked by the merchants and our delivery team picks them after payment. Under FBK (Fulfilled by Kilimall), products are stocked at the Kilimall warehouse and shoppers can pay on delivery," he said.