Chinese-owned company steps in to help autistic boy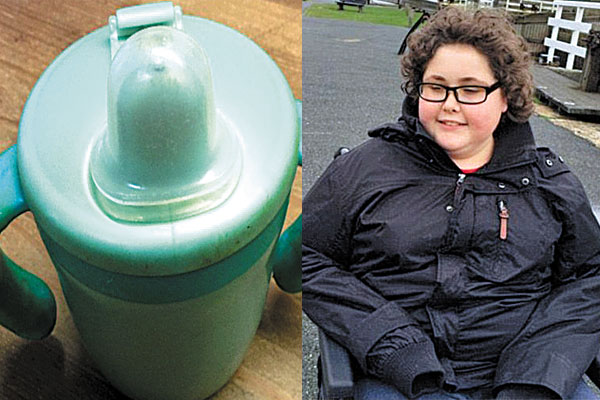 Autistic British teen Ben Carter won't drink from any cup other than his worn Tommee Tippee, which is no longer manufactured. [Photo/Marc Carter/Twitter]
A Chinese-owned UK company has come to the aid of a 14-year-old autistic British boy by reactivating production of his favorite 1990s baby drinking cup at a plant in China.
Mayborn Group, based in the northeast of England, lept into action after hearing of an appeal by Marc Carter, whose 14-year-old autistic son Ben will drink only from a blue Tommee Tippee cup, which the company last made nearly 20 years ago. Ben's favorite cup was getting worn and needed replacing.
Mayborn, which was acquired by Shanghai Jahwa (Group) Co in April, was formerly owned by investment group 3i.
"Like people all over the world, we've been incredibly touched by Ben's story, and wanted to do everything we could to help find the cups he loves," Mayborn's spokesman Matt de Leon said.
"We asked our staff in offices across the world to look through archived product samples in case we had a case of them hidden in a cupboard or warehouse," de Leon told China Daily."Unfortunately, we didn't, as it's almost 20 years since this style of cup was manufactured, so we looked into the possibility of creating a special production run for Ben."
The original molds for the cup were finally found at the factory of one of their contractors, Jackel China. The supplier is based in the Changping section of Dongguan, in Guangdong province.
It is discussing the cup's color with the Ben's father, and production has entered the final stage, an official who asked to remain anonymous at the Dongguan government publicity department told China Daily. The plan is to do a special run of 500 cups.
"We're convinced this production run will make a real difference to Ben, and give him enough cups for the rest of his life," de Leon added.
Ben's father tweeted: "Can't believe Tommee Tippee have managed to find the mold and are going to make me so many. They have been truly incredible, such a genuinely lovely and caring team."
He told Tyne-Tees Television:"I'm trying to find a production company to help me make a film about this story and to go to China to film the cups being made, but also include the stories of so many other families who have their own Bens, with their version of the little blue cup, be it a toy, blanket, teddy or a cup.
"It helps with the conversation about autism and helps get the debate going," he said.
Xu Jingxi in Guangdong contributed to this story.