Chinese roots go deep at Kew Gardens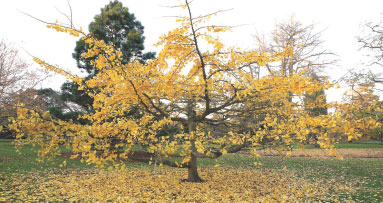 A young maidenhair tree grows at Kew Gardens on the west side of London. [Photo by Huang Qiuchen/For China Daily] 
"At Kew, we call China 'the mother of gardens'," says Tony Kirkham during a winter stroll through London's Royal Botanic Gardens at Kew.
Kirkham is one of England's foremost tree experts and head of the arboretum at Kew. That makes him responsible for more than 14,000 trees, carefully selected over two-and-a-half centuries, since Princess Augusta-plant enthusiast and mother of George III-decided to create the country's most comprehensive tree collection.
China's relationship with Kew goes back to 1762, just three years after the site was established. Princess Augusta had her eye on Britain's only maidenhair tree-or ginkgo-that had arrived in the country by way of China, Japan and Holland.
"She wanted the best collection in Europe, and she got her way," Kirkham says as he stands next to the now towering, 21-meter tree.
"This tree was growing on the Duke of Argyll's estate in Twickenham and, when he died in 1761, the tree was dug up and brought to Kew."
With its primitive fanshaped leaves, it is what Kirkham calls a "living fossil". The tree is resilient to pollution, thanks to the acrid atmosphere of an evolutionary environment that it shared with the Stegosaurus.
It is one of the gardens' five "Old Lions" planted in the mid-18th Century. Another of the five-the Styphnolobium japonicum or pagoda tree-is also from China. The 250-year-old tree still flowers every year.
Kirkham's passion for Chinese trees goes back three decades. He's been on six expeditions to the country since the 1980s and wrote a book on Ernest Henry "Chinese" Wilson -the great plant collector of the early 20th Century.
"So many of our plants in Western gardens come from China," Kirkham says. "If we got 100 British gardeners in a room, 90 of them would have a plant from China in their garden."