South Korea's Park asks parliament to find way for her to step down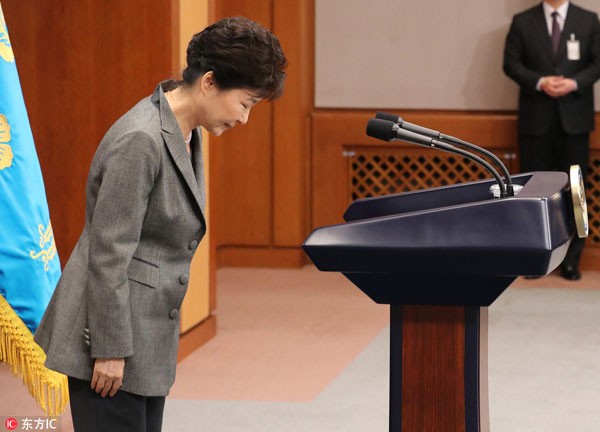 Park Geun-hye bows during her third televised address to the nation, Nov 29, 2016. [Photo/IC]
SEOUL - South Korean President Park Geun-hye on Tuesday asked parliament to find a way for her to give up power and decide when she should step down amid an influence-peddling scandal, but the opposition said she was just trying to avoid impeachment.
Park, 64, had apologised twice previously but until now resisted mounting public calls to quit, even as lawmakers readied to mount impeachment proceedings.
"I will leave to parliament everything about my future including shortening of my term," she said in a brief televised speech.
"I will step down from my position according to the law once a way is formed to pass on the administration in a stable manner that will also minimise political unrest and vacuum after ruling and opposition parties' discussion."
The main opposition Democratic Party rejected Park's offer, calling it a ploy to escape being impeached, Yonhap news agency said.
Park Kwang-on, a Democratic Party lawmaker, said it looked like she was trying to delay proceedings.
"She is handing the ball to parliament, when she could simply step down," he said.
"She is asking the parliament to pick a date for her to resign, which she knows would lead to a discussion on when to hold the presidential election and delay everything."
Shin Yul, a professor of political science at Myongji University, agreed.
"She doesn't want the parliament to impeach her and she doesn't think that the parliament can soon reach an agreement, so she is making things complicated and trying to shift some of her blame to the parliament," he told Reuters.
Some lawmakers from Park's own conservative Saenuri party had asked her to resign under an agreement that would allow her to leave office with some dignity.
On Saturday, hundreds of thousands of South Koreans rallied for the fifth weekend in a row, calling for Park's resignation. Organisers said the crowd totalled 1.5 million, while the police estimated the crowd at 260,000.
No South Korean president has failed to complete a term since the current democratic system was implemented in 1987. If Park is impeached or resigns, an election would be held in 60 days to nominate a president to serve a five-year term.
Park's approval rating fell to just 4 percent in a weekly survey released on Friday by Gallup Korea, an all time-low for a democratically elected South Korean president.
Park's friend, Choi Soon-sil, and a former aide have been indicted in the case. Prosecutors named Park as an accomplice in an investigation into whether big business was inappropriately pressured to contribute money to foundations set up to back Park's initiatives.
The presidential office and Park's lawyer have denied the accusations.
Park has acknowledged carelessness in her ties with Choi, who Park has said had helped her through difficult times.
Their friendship dates to an era when Park served as acting first lady after her mother was killed by an assassin's bullet intended for her father, then-president Park Chung-hee. Five years later, in 1979, Park's father was murdered by his disgruntled spy chief.