ROK-Japan intelligence sharing pact criticized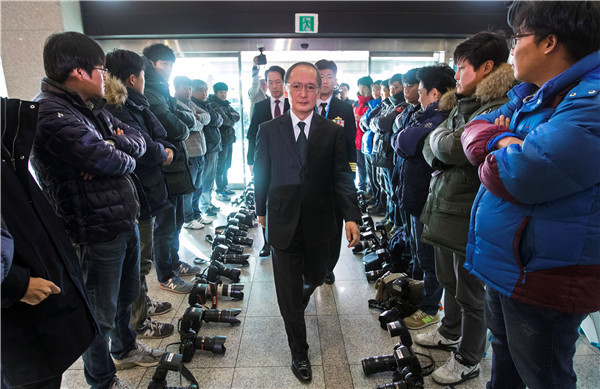 Republic of Korea media protest the decision to bar photographs, as Japanese ambassador Yasumasa Nagamine enters to attend the intelligence deal signing ceremony in Seoul on Wednesday. AFP / YONHAP
The Republic of Korea and Japan signed a long-delayed agreement on sharing military intelligence on Wednesday, despite public opposition in Seoul, ensuring the free exchange of information among the two countries and their ally the United States.
Experts said the move, together with other recent activities by Seoul, reflects a spreading Cold War mentality that could heighten tension on the Korean Peninsula and test Seoul's relationship with Beijing, since the sharing of intelligence could relate to China.
The General Security of Military Information Agreement, signed on Wednesday, allows the ROK and Japan to directly share information about the Democratic People's Republic of Korea without first going through US intelligence.
Seoul and Tokyo currently use Washington as an intermediary when sharing military intelligence on Pyongyang under a deal signed in 2014.
The signing came less than a month after discussions resumed on Oct 27, following a suspension of four years due to public opposition in the ROK.
Chinese Foreign Ministry spokesman Geng Shuang criticized the agreement at a daily news conference on Wednesday.
"Related countries' adherence to the Cold War mentality and strengthened military intelligence cooperation will aggravate antagonism and confrontation on the Korean Peninsula," Geng said, adding that this will bring more insecurity and uncertainty to Northeast Asia.
The DPRK has slammed the military pact, calling it "a dangerous act" that would further raise tensions on the peninsula and open a door to Japan's "re-invasion", Agence France-Presse reported.
Su Hao, a professor of Asia-Pacific studies at China Foreign Affairs University, said, "There will be a growing risk of military confrontation in the region, which is advocated by a Cold War mentality."
Da Zhigang, director of the Institute of Northeast Asian Studies at the Heilongjiang Academy of Social Sciences, said the pact was signed at a time when the ROK government needs something to distract the public from ROK President Park Geun-hye's scandal involving a close adviser.
The intelligence deal could also cover information the ROK detects through the anti-missile system that the US plans to deploy in the ROK, Da said.