'How I became Chinese': French actress's excursion in China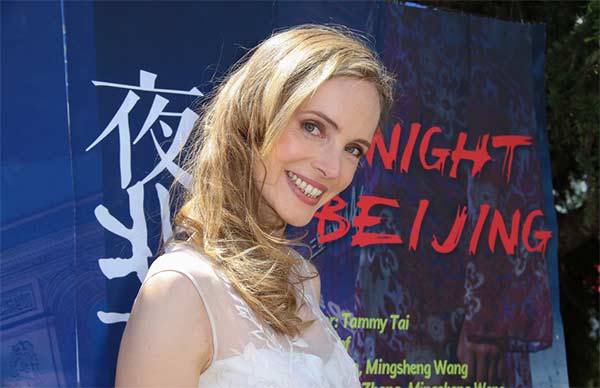 Laura Weissbecker [Photo/IC]
PARIS -- Laura Weissbecker, a French actress played one of the main roles in Chinese martial artist Jackie Chan's film "Chinese Zodiac", published her autobiography "How I became Chinese" recently in France.
In an interview with Xinhua, the 32-year-old actress explained how China has changed her life.
"People are intrigued when I say that I worked and lived in China as a Chinese woman. For me, China is the new El Dorado, it is true for the cinema too," said Weissbecker.
The book is about Weissbecker's journey in China and her acting career in France, China and Hollywood. With a refreshing and humorous style, Weissbecker shares her life experiences and reflections through anecdotes.
Since the publication of the book in early October, the sales has been good, said Melodie Landrot, manager of the Phenix book store located in one of the busiest commercial areas in Paris.
"We have many books about China here in our book store, the angel of 'How I became Chinese' is unique and original, the readers are very interested," Landrot added.
"I have divided my book into five chapters corresponding to the Western elements defined by the Greek philosopher in the 5th century BC -- water, earth, fire, air, to which I added the fifth element with a more ambiguous status, ether," Weissbecker explained how she put her stories and thinking into different themes.
Each chapter of the book evokes around the shooting of "Chinese Zodiac", which was released in 2012 and allows Weissbecker to win the "Best global emerging actress" at the Huading Awards in Macao in 2013.
"We Europeans, we always have an image of China that is a little deformed. There are stereotypes and cliches," said Aude Boissaye, one of the readers giving feed backs on the book.
"By telling stories about how she worked in China as actress, we get to know Chinese' way of working, it's very interesting and let us know the country better," she added.
The book will soon be translated into mandarin and published in China, its Italian version is also being planned, Weissbecker told Xinhua.
Weissbecker was born in Alsace, eastern France. At the age of 18, she went to Paris and studied in agricultural engineering.
"Along with my engineering studies, I was a model. One day, an officer asked me to go for a fashion week in Beijing, I was among the 15 selected models. I jumped for joy!" she recalled the moment with full emotion.
Weissbecker said the first step to become Chinese is to have a Chinese name, she named herself Bai Luna, meaning a woman like the white dew in the morning.
Being an actress in France, China and Hollywood, Weissbecker said Chinese are the most diligent and she has integrated this quality into her personality.
"I love China and Chinese, I groan and complain sometime as French people do, but this is not in the Chinese mentality, in China I'm really happy," Weissbecker said, adding that living in China is a change of air.
For a young actress like Weissbecker, China is a country with great opportunities.
"For me, China is the future. China is now considered the second territory at the U.S. box office and will soon surpass the United States. It is estimated that ten new cinemas are created every day in China! " she said with enthusiasm.
Weissbecker has now created her won company and is working hard on a Franco-Chinese co-production, a feature film, a comedy that will mostly be shot in China.
"Choose a job you love and you will not have to work a single day in your life," she said, quoting Confucius.
"I've become Chinese, undoubtedly without passion," Weissbecker said in the epilogue of her autobiography, adding "I never imagined that this reality could be a fragment of my destiny. I started this unexpected excursion in May 2011. It is prolonged and enriched ever since."