American Airlines jet catches fire on takeoff at Chicago airport
CHICAGO - An American Airlines jet caught fire moments before it was due to depart O'Hare International Airport in Chicago on Friday, prompting the crew to abort takeoff and evacuate passengers via emergency chutes, authorities said.
No serious injuries were reported.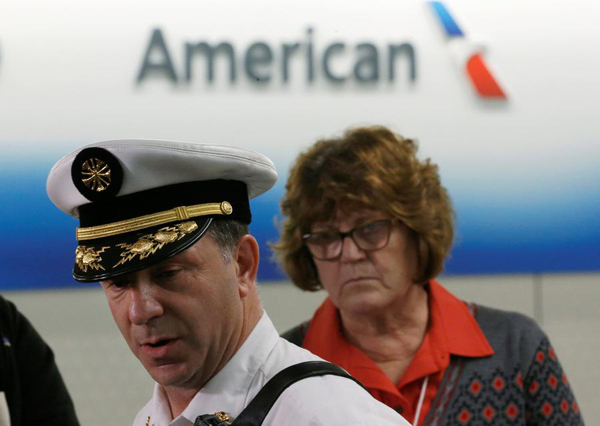 Chicago Fire Department Assistant Deputy Fire Commissioner Timothy Sampey holds a news conference about an American Airlines jet that caught fire as Aviation Commissioner Ginger Evans looks on at O'Hare International Airport in Chicago, Illinois, US, October 28, 2016. [Photo/Agencies]
The takeoff of American Airlines Flight 383, a Boeing 767 bound for Miami with 161 passengers and a crew of nine, was prompted by an "engine-related issue," the airline said in a statement.
The Federal Aviation Administration cited a blown-out tire reported by the flight crew as the plane was rolling down the runway before takeoff was aborted.
Neither the FAA nor the airline mentioned a fire.
But footage from Chicago's ABC News affiliate station, WLS-TV, showed an American Airlines jet on the ground with flames and large clouds of black smoke billowing from one side of the aircraft, which had its emergency slides deployed. Passengers milled about watching the blaze as fire trucks poured water on the flames.
A video clip posted on Facebook by Hector Gustavo Cardenas, who was on the plane, shows passengers shouting at each other to hurry as they move down the aisle to the emergency exit slide.
"15 Seconds later would have been on the air and would have been a good bye..." he wrote on Facebook.
The Chicago Department of Aviation confirmed in a statement that the city fire department responded to an aircraft fire involving American Airlines Flight 383 and that the passengers were off the plane. It said no crash was involved.
The company said seven passengers and one flight attendant were taken to a hospital for evaluation of minor injuries.
An American Airlines spokeswoman said the injuries were typical of those associated with evacuating a commercial jet, such as muscle sprains, and that none involved burns or smoke inhalation.
The incident forced the closure of at least three of the airport's eight runways, the city Aviation Department said.
By about two hours after the incident, the airport had experienced 130 delays of departing flights and 170 inbound flights, according to flight-tracking website FlightAware.com
As the mishap unfolded, tower controllers at O'Hare began ordering inbound aircraft to abort their landing approaches and "go around," initially closing all runways so emergency vehicles could reach the stricken aircraft, according to audio recordings of the main tower frequency posted by the website liveatc.net.
Asked by the pilot of one inbound plane to explain the maneuver, a tower controller is heard saying: "Vehicles have rights to all the runways right now because an American engine burst into flame on the rollout," the tapes showed.
Operations later resumed on the north side of O'Hare airport, one of the world's busiest, according to web tracking sites and a live feed of tower conversations from liveatc.net.
In September last year, a British Airways jetliner engine caught fire in Las Vegas as the plane was about to take off for London, forcing all 172 passengers and crew to escape as smoke and flames engulfed the aircraft.