EU 'has obligation' to recognize MES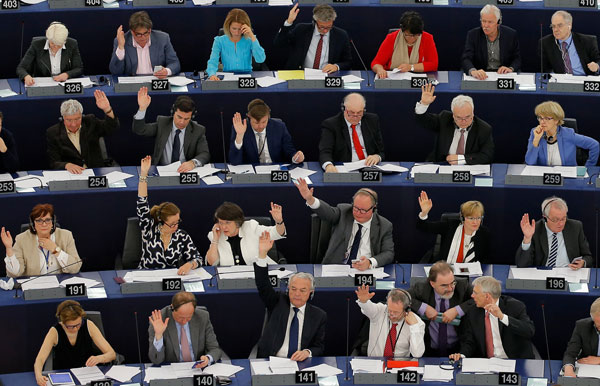 Members of the European Parliament take part in a voting session in Strasbourg, France, April 12, 2016. [Photo/Agencies]
Beijing urged Brussels on Friday to honor its international obligation to treat China as a market economy, after the European Parliament passed a non-binding resolution of refusal.
European experts said the parliament's decision could result in the China-EU relationship becoming embroiled in a tit-for-tat scenario.
On Thursday, the European Parliament voted to refuse China market economy status, with many members saying that China has not met the five criteria for a market economy set by European institutions.
The UK, the Netherlands and the Nordic countries support China's market economy status. Germany supports it, in principle, but wants safeguards for sensitive industries, while Italy is strongly opposed.
China is recognized as a market economy by 80 countries including Russia, Brazil, New Zealand, Switzerland and Australia.
An unidentified representative of China's Ministry of Commerce said on Friday that the European Union must observe the accession articles of China's entry into the World Trade Organization.
These stipulate that China should be automatically given market economy status in December this year after a 15-year transition period.
The ministry said this international obligation must be shouldered by all WTO members and the European Union is no exception.
Beijing maintains that granting market economy status is dependent on international rules rather than domestic criteria.
To deny such status to China would be a strong political signal from the EU and could well lead to deterioration of the recent warming political relationship between the two economies, said Luigi Gambardella, president of ChinaEU, a non-profit organization in Brussels that promotes bilateral digital and internet cooperation.