Chinese president arrives in Jakarta for Asian-African summit
Updated: 2015-04-22 03:13
(Xinhua)
Comments
Print
Mail
Large
Medium
Small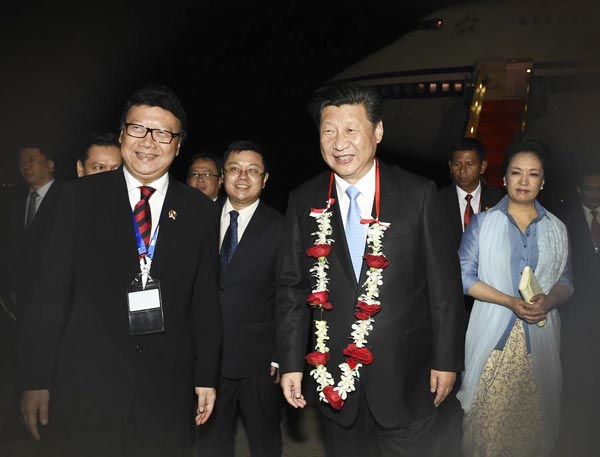 President Xi Jinping, front right, arrived in Jakata, Indonesia, on April 21, 2015, for an Asian-African summit and commemorative activities for the historic 1955 Bandung Conference. [Photo/Xinhua]
JAKARTA - President Xi Jinping arrived in Indonesia late Tuesday for an Asian-African summit and commemorative activities for the historic 1955 Bandung Conference.
The Chinese leader will address the bi-continental leaders' meeting on Wednesday in the Indonesian capital to expound China's stance and proposal on carrying on the Bandung Spirit and boosting Asia-Africa cooperation in the new era.
Xi will also hold bilateral meetings with other leaders before he travels to the heritage city of Bandung, West Java, to attend events marking the 60th anniversary of the first large-scale Asian-African conference.
Chinese Vice Foreign Minister Liu Zhenmin said earlier that Xi's Indonesia trip fully reflects China's firm commitment to advancing Asia-Africa cooperation and promoting the common development of Asian and African countries.
The trip is Xi's second to Indonesia within one and a half years. During his state visit to Indonesia in October 2013, Xi proposed the initiative of the 21st Century Maritime Silk Road and the establishment of the Asian Infrastructure Investment Bank.
Earlier in his ongoing two-nation Asia tour, the Chinese president paid a state visit to Pakistan, during which the two sides lifted their relationship to an all-weather strategic cooperative partnership.
Schedule
Chinese President Xi Jinping will visit Pakistan and attend the Asian-African Summit and activities commemorating the 60th anniversary of the Bandung Conference in Indonesia from April 20 to 24.

April 22
Attend the opening ceremony of the Asian-African Summit;
Meeting with Indonesian President Joko Widodo;

April 23
Bilateral meetings;
Attend the closing ceremony of the Asian-African Summit;

April 24
Historical walk from Savoy Homann Hotel to Gedung Merdeka;
Attend activities commemorating the 60th anniversary of the Bandung Conference;