Egypt's Sisi approves anti-terrorism law to face mounting violence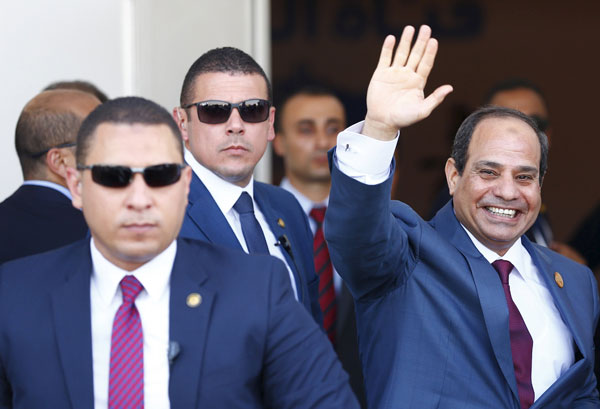 Egyptian President Abdel Fattah al-Sisi (R) waves during the opening ceremony of the new Suez Canal, in Ismailia, Egypt, August 6, 2015.[Photo/Agencies]
CAIRO - Egyptian President Abdel Fattah al-Sisi on Sunday approved an anti-terrorism law that gives more power to courts to enforce penalties against those who are involved in "terrorist acts."
The law defines "the terrorist" as anyone who commits, plans, incites, or threatens to commit inside or outside the country a "terrorist crime."
It also defines the "terrorist act" as every use of force, violence, or terror whether inside or outside the country to disturb the public order or to expose the society's safety to danger.
Penalty for such crimes according to the new law ranges from five years in prison to death.
Sisi has ordered his government to prepare a law that could set up special courts for prosecuting "terrorists" after the previous criminal courts' procedures have hindered the speed of justice.
His instructions came after the state's top prosecutor, Hisham Barakat, was assassinated in a car bombing in late June.
Egypt is facing an increasingly violent campaign of jihadist attacks which have been centered in North Sinai, where Ansar Beit al-Maqdis, the most active militant group, has pledged allegiance to the Islamic State (IS).
The attacks, which followed the ouster of Islamist president Mohamed Morsi by the army in response to mass protests against his rule in 2013, have killed hundreds of soldiers and police.
Before the new law was ratified, Sisi said, the country faced difficulties in applying penalties on terrorists. "The old procedures had crippled the state's hand in punishing the criminals."
Under the new law, security personnel could use force as much as necessary to push any danger away, with no legal accountability.
Financing "terrorist groups" will also carry a life sentence, which is 25 years in Egypt.
Inciting violence, which includes "promoting ideas that call for violence or creating or using websites that spread such ideas," could face five to seven years in jail.
In February, Sisi signed off on another anti-terrorism law that gave authorities powers to ban groups on charges ranging from harming national unity to disrupting public order.
The Muslim Brotherhood, from which former president Morsi hails, was banned by the government and deemed a "terrorist entity" last year.
The 54-article law sets a minimum fine of 200,000 Egyptian pounds (about 25,000 U.S. dollars) and a maximum of 500,000 pounds for journalists whose publications contradict government statements on attacks or security operations against militants.
An inital version of the law called for the imprisonment of journalists over such offense, but was amended to include only fines due to domestic and international outcry.