Egypt's Sisi cuts short Ethiopia visit after deadly Sinai attacks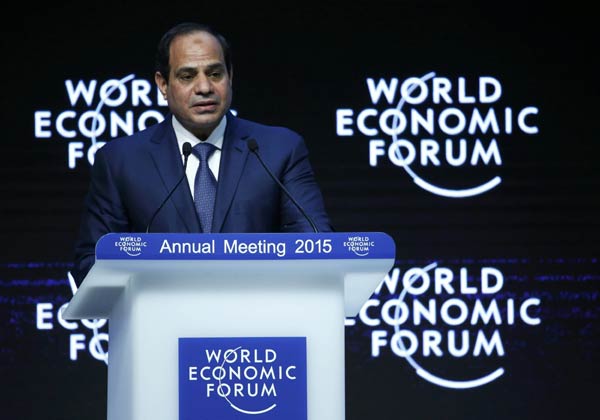 Egyptian President Abdel Fattah al-Sisi makes a speech during the Egypt in the World event in the Swiss mountain resort of Davos January 22, 2015. [Photo/Agencies]
Jan 30 - Egyptian President Abdel Fattah al-Sisi cut short a visit to the Ethiopian capital for an African Union summit, following a wave of deadly attacks on Thursday night in Egypt's Sinai Peninsula claimed by Islamic State's Egypt wing.
Sisi's office said in a statement emailed on Friday morning that Sisi was heading back to Cairo to follow the situation. At least 26 security personnel were killed late on Thursday in four separate attacks in North Sinai, in some of the worst anti-government violence in months.
Sisi had been scheduled to address the AU summit that began in Addis Ababa on Friday morning.
Egypt is fighting an Islamist insurgency based in the Sinai. Hundreds of security force members have been killed since the army ousted President Mohamed Mursi of the Muslim Brotherhood in July 2013 after mass protests against his rule.
The government makes no distinction between the Brotherhood and the Sinai-based militants. The Brotherhood denies any links to the insurgents.
The most active militant group, Ansar Bayt al-Maqdis, changed its name to Sinai Province last year when it swore allegiance to Islamic State, the hardline Sunni militant group that has seized swathes of Iraq and Syria, drawing US-led air strikes.