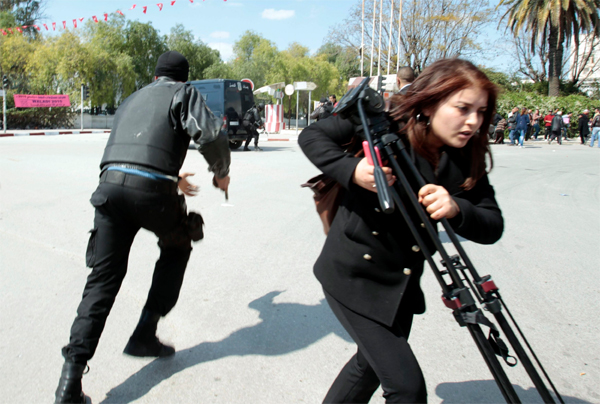 Police officers and a journalist run outside the parliament in Tunis March 18, 2015.[Photo/Agencies]
"Each time a terrorist crime is committed, we are all concerned," Hollande said.
North Africa analyst Geoff Porter said an attack on a tourism site has long been expected as the militants come under pressure from increasingly effective Tunisian security forces.
"Today's attack did not come out of nowhere. In fact, it comes amid ongoing counterterrorism efforts elsewhere in the country," he said about the attack. "Increasing pressure on terrorist activities ... may have squeezed the balloon, with terrorists seeking softer targets with more symbolic impact in the capital."
The attack came the day after Tunisian security officials confirmed the death in neighboring Libya of Ahmed Rouissi, leading suspect in Tunisian terror attacks and in the killings of two opposition figures in Tunisia.
Rouissi had become a field commander for the Islamic State in Libya and died fighting near the town of Sirte, highlighting how Libya has increasingly become a sanctuary for Tunisian radicals.
Tunisia has repeatedly expressed concern over the security threat from Libya, where central government has broken down since the 2011 ouster of Moammar Gadhafi and is now run by competing militias.