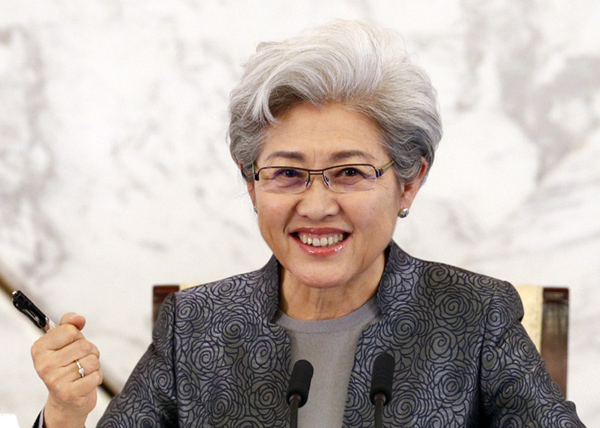 Fu Ying, spokeswoman for the annual session of the 12th National People's Congress, addresses a news conference in Beijing. She said using network portals to investigate terror attacks is common practice. [SHEN BOHAN/XINHUA]
Misunderstandings have arisen from US opposition to a Chinese draft law asking US corporations to disclose their security-related data, a spokeswoman for the annual session of China's top legislature said on Wednesday.
It is good to see the US paying attention to China's anti-terrorism law, said Fu Ying, spokeswoman for the third session of the 12th National People's Congress.
But misunderstandings have stemmed from United States' requests for Chinese enterprises in that country to reveal security-related information. The US is arguing that the proposed Chinese legislation should not apply to US companies.
"The Chinese government is concerned about obstacles faced by Chinese enterprises that operate overseas," Fu said at a news conference.
"We found that some senators or members of the House of Representatives who criticized Chinese companies did not really understand the situation."
Fu said there has been heated discussion of the anti-terrorism draft law-which has been given a second review by the top legislature-mainly because it stipulates that China can use network and telecommunication portals to prevent and investigate terror attacks.
The draft law is aimed at helping to fight terrorists and will apply only to police and officers from national security departments, Fu said.
"In addition, applications for telecom and Web portals must be approved strictly by the government. This is in accordance with the principles of the Chinese Administrative Law, as well as being common practice internationally," she said.
Some Western countries, including the US and Britain, have also required technology companies to disclose security-related data in recent years, Fu said, adding that this will not harm the interests of network businesses.
"We hope to develop talks in cyberspace on the basis of respect, and we'd better set up uniform rules for governing the network, not double standards," she said.
To push the anti-terrorism draft law, China's top lawmakers will continue to listen to and exchange views with different parties in an effort to make the legislation more scientific, reasonable and accurate, Fu said.
China needs to build up a legal system covering national security, as it faces an increasingly complicated national situation in the era of globalization, Fu said.
She added that the core of such a system is the national security draft law, which has been given a preliminary review by the legislature.