Li says focus is on long-term growth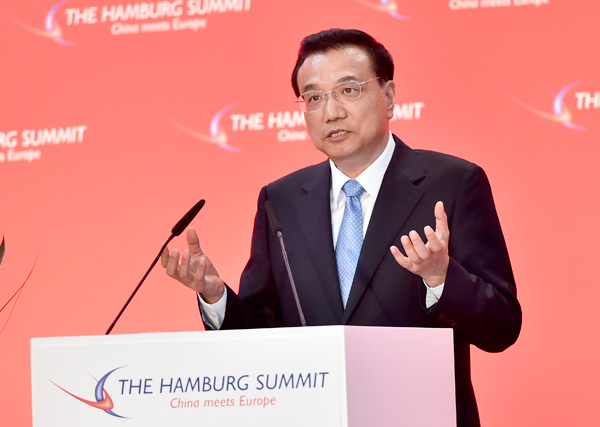 Premier Li Keqiang delivers a keynote speech at the closing ceremony of the sixth Hamburg Summit in Hamburg, Germany, Oct 11, 2014. [Photo/Xinhua]
Premier Li Keqiang dismissed speculation of a hard landing for Chinese economy and said that China has the capability to meet this year's growth target in an address to European business leaders in Hamburg on Saturday.
Describing economic expansion as a "marathon with no ending" rather than a sprint, the premier said perseverance and continued strength is more important than speed in economic growth.
China has set the GDP growth target for this year at around 7.5 percent, but the sluggish property market and domestic demand meant it only managed to expand 7.4 percent in the first half.
In a report issued on Friday, an important think tank, the Chinese Academy of Social Sciences, lowered its forecast for 2014 GDP growth to 7.3 percent from 7.4 percent, after cutting it from the original 7.5 percent a few months ago.
Li admitted that Chinese economy is now facing downward pressure, but stressed that it is generally stable.
It was the second time in two days he has assured European government officials and corporate leaders about the outlook of Chinese economy during his visit to Germany starting on Thursday.
"I hope to draw your attention to the word 'around', not focusing only on the percentage itself. It is very important because I've said on many occasions that either a bit higher or lower than 7.5 percent is considered within a reasonable range of the growth target," he said.
The key, Li added, is to ensure the quality of economic growth, including creating employment, raising urban incomes and the fight against pollution.
"The Chinese economy is still running within the reasonable range, particularly because we have created more than 10 million job opportunities in the first 10 months of this year, achieving our annual target two months early," he said.
"China will add a positive influence to the global economy and will become an important driving force in the recovery of global economy, which means plenty of opportunities for Sino-Europe cooperation."
He also pledged to further open market access and fight against dishonest behavior to create a fair market environment.
Li made the remarks in a keynote speech delivered at the closing ceremony of the sixth Hamburg Summit, which had the theme "China meets Europe", highlighting the great potential and possibilities for cooperation between the two.
He arrived in Hamburg on Saturday morning after first visiting Berlin at the start of his second official visit to the country on Thursday. He next flies to Russia, which is engaged in a standoff with the West over Ukraine, before meeting Western leaders at the Asia-Europe Meeting in Italy from Oct 16 to 17.