China, Germany sign $18.1 billion deals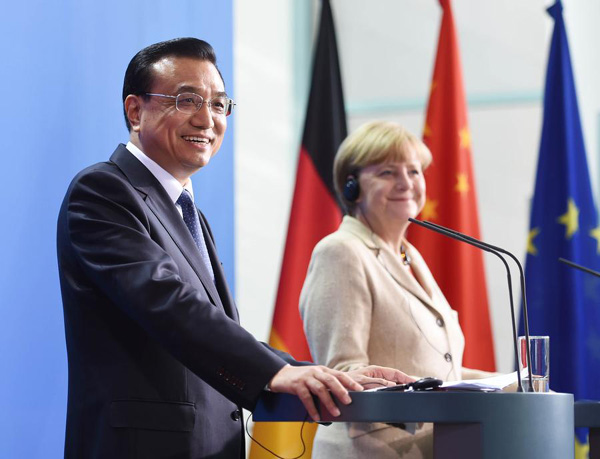 Premier Li Keqiang (L) and German Chancellor Angela Merkel attend a joint press conference after co-chairing the third round of bilateral governmental consultations in Berlin Friday. [Photo/Xinhua]
Two nations aim to boost trade and investment, while deepening their innovation partnership
Deals worth more than $18 billion were signed as Premier Li Keqiang met German Chancellor Angela Merkel on Friday in the third round of top-level talks this year between the Asian and European export powerhouses.
Airbus SAS and China Aviation Supplies Holding Co signed a general terms agreement for China to buy 70 A320 Airbuses.
The two sides also signed a letter of intent reconfirming their intention to set up an A330 completion and delivery center in Tianjin,where an A320 assembly line is already located.
Other deals included agriculture, automobiles, telecoms, healthcare and education.
China and Germany also signed a wide-ranging guideline covering 110 cooperation agreements over the next five to 10 years, the largest agreement of its kind that China has reached with other countries.
Li was welcomed by Merkel and German President Joachim Gauck at a ceremony in Berlin with full military honors.
The premier was accompanied by government officials and an entourage of 130 business chiefs. Both sides then met in a joint government meeting.
Both sides stressed that they want to boost their multi-billion-dollar trade and investment ties and deepen a new innovation partnership.
"The two sides have deeply engaged, like gearwheels meshing with each other, to form an interwoven interest group," Li said during an address to the Sino-German Economic and Technical Forum.
Experts said this indicates that the two driving forces in Europe and Asia are focusing less on low-end manufacturing and more on high-tech fields.
The premier's visit to Germany comes as Merkel looks to increase exports outside Europe and as the euro-area economy struggles.
Germany's exports fell by 5.8 percent in August, the most in five and a half years. The government is reviewing its growth forecasts after four economic institutes advising Merkel said on Thursday that GDP will probably only grow by 1.2 percent in 2015 instead of the 2 percent they predicted in April.
"It's no wonder we have to look to China for leveraging exports," said Michael Fuchs, a deputy parliamentary leader of Merkel's Christian Democrats in the lower house.
"It's on our radar and helping to take up the slack as our main European trading partners remain weak. It's also an enormous, attractive market."
German exporters are keen to increase sales in Asia.
Mario Ohoven, president of the BVMW lobby group that represents thousands of small and medium-sized companies, said: "In Germany, every family has on average 1.5 cars, but in China only one in 20 families has. This is the market of the future. We can't get around that. Our sights must be on Asia."
Eberhard Sandschneider, director of studies at the German Council on Foreign Relations in Berlin, said Germany's courtship of China is not one-sided.
China wants German support for its "new Silk Road" plan to increase trade with the West as it confronts its own economic challenges, Sandschneider said.
Li's German trip follows Merkel's visit to China in July, her seventh official trip to the country. President Xi Jinping visited Berlin in March.
Li will next travel to Russia, which is engaged in a standoff with the West over the Ukraine conflict, before meeting Western leaders at an Asia-Europe Meeting in Italy on Oct 16 and 17.
Wang Wen, AFP and Bloomberg contributed to this story.
zhaoyinan@chinadaily.com.cn