Premier gives Merkel a puzzle
Premier Li Keqiang gave a traditional Chinese puzzle game called Lu Ban Lock to German Chancellor Angela Merkel on Friday at a bilateral economic and technological forum, saying he hoped the two countries can "solve difficulties with intelligence and expand their future".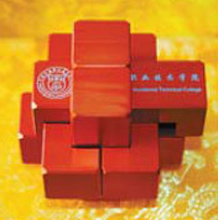 Example of the Lu Ban Lock Premier Li gave to German Chancellor Angela Merkel. 
Lu Ban Lock is an educational toy invented by a famous ancient Chinese carpenter named Lu Ban that is based on mortise and tenon joints. Each piece of the lock is interconnected without fixtures and players have to unlock the gadget and put the pieces back together.
The gift was sent shortly after the two government leaders signed deals worth more than $18 billion on the first full-day of the Chinese premier's second visit to the country.