Egypt seeks death sentence for 683 Muslim Brotherhood supporters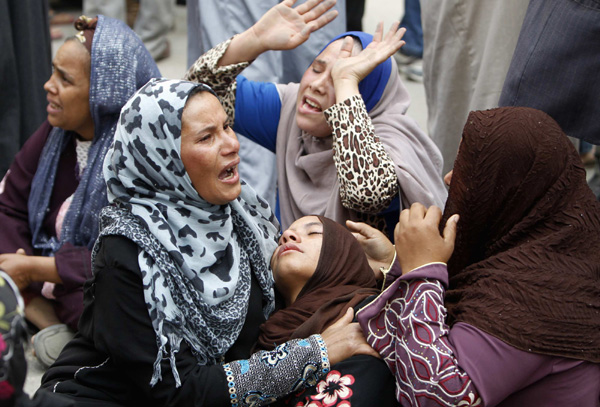 Relatives and families of members of Muslim Brotherhood and supporters of ousted President Mohamed Morsi react after hearing the sentence, in front of the court in Minya, south of Cairo, April 28, 2014. [Photo/Agencies]
MINYA - An Egyptian court has recommended the death sentence for the leader of the Muslim Brotherhood and 682 supporters, and handed down a final capital punishment ruling for 37 others, judicial sources said on Monday.
Seeking the death penalty for Mohamed Badie, the Brotherhood's general guide, is certain to raise tension in Egypt, which has been gripped by turmoil since the army removed the Brotherhood from power last year.
The 37 death sentences were part of a final judgement on 529 Muslim Brotherhood supporters who were sentenced to death last month. The remaining defendants were sentenced to life in jail.
Death sentence recommendations in the case involving Badie will be passed on to Egypt's Mufti, the highest religious authority. His opinion is not legally binding and can be ignored by the court.
The biggest trials in Egypt's modern history have reinforced fears among human rights groups that the military-backed government and anti-Islamist judges are bent on crushing dissent.
The authorities have branded the Brotherhood a terrorist group, an allegation it denies.