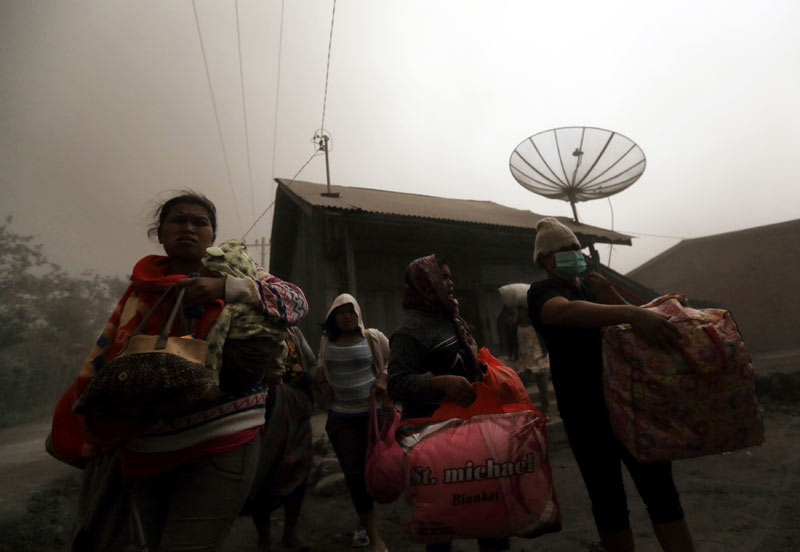 Villagers evacuate with their belongings as ash from Mount Sinabung volcano hit Payung village in Karo district, Indonesia's North Sumatra province, January 8, 2014. About 20,000 villagers have been evacuated since authorities raised the alert status for Sinabung to the highest level in November 2013, local media reported on Monday.[Photo/Agencies] 
KARO, Indonesia - More residents have been forced to flee heir homes and sought shelter in evacuation centers as western Indonesia's Mount Sinabung continued its rumblings, spewing huge columns of gray ash.
The government has built about a dozen evacuation centers around the vicinity of the volcano. The evacuees are provided with rice, biscuits, drinking water and other amenities by the local government here.  
"In this shelter we can get food and water and we tried to get rid of anxiety and fear," said Nusun Sitepu, a female evacuee in one of the centers.
Nusun recalled the panic that accompanied their forced evacuation from their homes when Sinabung erupted in November. " People, especially children, were crying and we were really scared, " she said.
The 2,500-meter-tall volcano had three violent explosions Tuesday, sending hundreds more people into evacuation camps.
There are now more than 22,000 evacuees in these camps, according to Indonesia's disaster mitigation agency (BNPB) spokesman Sutopo Purwo Nugroho.
No casualties have been reported since Sinabung's eruption in September. Authorities have raised the alert status to the highest level in November and have organized an orderly evacuation since then.
Currently, the evacuation zone is still between 5 and 7 km on southeast slope of the volcano. But BNPB has told local authorities to prepare for the evacuation zone to be extended to up to 7.5 to 10 km from the foot of the volcano.
Despite the possibility of inhaling hazardous gas and ash, many villagers, especially men, prefer to stay in the evacuation zones at night but visit their farms during the day to check on their crops and livestock.
At the Tiga Pancur Village, about 6 km away from the volcano, Edi Sembiring, an evacuee, said that he is now used to hearing loud explosions every day.
"I was planning to work on my farm but this was interrupted by the volcano's eruption. I don't know when I can start tilling my farm again," Edi said.
Mount Sinabung, situated only 60 kilometers southwest of the North Sumatra's capital Medan, is among the 130 active volcanoes in Indonesia.