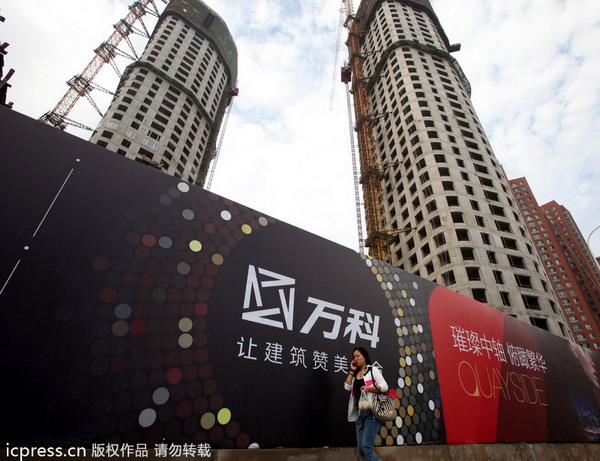 A pedestrian walks past the construction site of a real estate project developed by Vanke in China's Tianjin, Sept 21, 2013. [Photo / icpress.cn]
New home reserves in 20 select cities reached 83.93 million square meters at the end of last year, the highest level seen since 2011, a report said.
The figures for the cities, which included Beijing, Shanghai, Guangzhou and Shenzhen, were contained in a new report released by Shanghai E-house China R&D Institute on Tuesday.
The bulging inventories, which have increased for six consecutive months, are sure to push developers to take proactive measures in 2014, said Yan Yuejin, a researcher with E-house China R&D Institute.
Seventeen of the 20 cities monitored by E-house China saw month-on-month growth of residential inventories, with Nanchang of Jiangxi province surging 50 percent, which was followed by 17.4 percent in Shenzhen and 11.4 percent in Jiujiang, in Jiangxi province.
The rising housing supplies have outpaced demand over the past six months, the report said.
In December, the 20 cities released onto the market a combined supply of new homes that totaled 11.76 million sq m, the largest amount in a single month last year, and one that was up 11.8 percent month-on-month and 7.1 percent year-on-year.
At the end of 2013, new home inventories in Beijing, Shanghai, Guangzhou and Shenzhen totaled 29.15 million sq m.
Second-tier cities, which include Qingdao of Shandong province, Nanjing of Jiangsu province, Hangzhou of Zhejiang province, Nanchang of Jiangxi province, Fuzhou of Fujian province and Xiamen of Fujian province, registered 31.05 million sq m in new home supplies. And 10 third-tier cities reported new housing supplies totaling 23.73 million sq m.
Compared with the outlook for the new home market, the secondary market was more active.
In 2013, Shanghai's new home inventory totaled 9.82 million sq m, which was down 3.7 percent year-on-year. But its used-home inventory fell 15.8 percent year-on-year to 12.99 million sq m.
Second- and third-tier cities showed a similar trend. Analysts expect inventories in these cities will continue to grow.
But land sales remained red-hot in 2013, as Beijing, Shanghai, Guangzhou and Shenzhen sold a combined 515.5 billion yuan worth of land.
Shanghai alone has auctioned off 220.4 billion yuan worth of land, data compiled by property agency Centaline show.
Major developers are taking the lead in the land purchasing spree. The top 10 developers, including China Vanke Co Ltd, Poly Real Estate Group Co Ltd and Evergrande Real Estate Group, had stockpiled 332.9 billion yuan worth of new land plots at the end of 2013, a total that was more than 100 percent higher than the 2012 total, according to Centaline data.
New-home prices in the nation's 100 major cities averaged 10,833 yuan per sq m in December and showed a rise in 19 consecutive months, a report from the China Index Academy, a research arm of Soufun, China's largest property website, showed.
According to Chen Sheng, vice-president of the China Real Estate Data Academy, the fundamental way to tame skyrocketing home prices is to increase the residential supply, especially in terms of land.
Only about 40 percent of the land will ever be developed into residential projects, Chen said. The rest will go for industrial or commercial properties, he said.