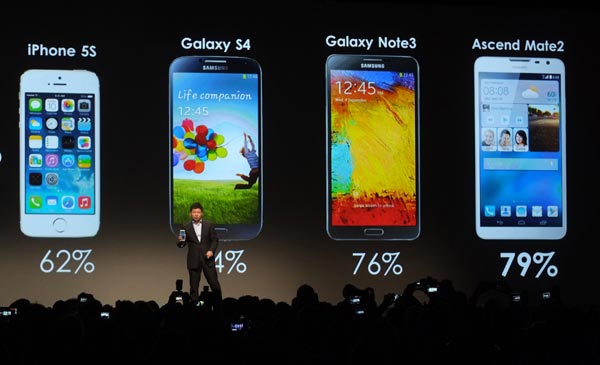 Richard Yu, CEO of Huawei Consumer Business Group, speaks during a press event at the Mandalay Bay Convention Center on Jan 6, in Las Vegas, Nevada. Joe Klamar / AFP
The curtain went up on the annual International Consumer Electronics Show, known as CES, in Las Vegas on Tuesday.
This year, "CES showcases more than 3,200 exhibitors, including manufacturers, developers and suppliers of consumer technology hardware, content, technology delivery systems and more", according to the Consumers Electronics Association, or CEA, the convention's organizer.
More than 152,000 attendees from about 150 countries will take part in 300-plus sessions over the four-day show.
Out of the exhibitors, 937 are from mainland China, with another 76 from Taiwan and 55 from Hong Kong, outnumbering the 903 exhibitors from the United States.
Consumer electronics is a $203 billion industry in the US. The conference features products for 15 consumer technology markets, including audio, automotive electronics, computer hardware and software, digital imaging, electronic gaming, entertainment, Internet-based multimedia systems, video, wireless devices and more.
Many players in the industry have used the CES as a venue to unveil "world-changing" innovations since the gathering started in 1967. The videocassette recorder was introduced there in 1970, the camcorder in 1981, high definition TV in 1998 and driverless car technology in 2013.
As a leading electronics innovator, Huawei Technologies Co Ltd shared its global strategy for the year ahead, highlighting its Ascend Mate 2 smartphone.
In the third quarter of 2013, Huawei was ranked number three by International Data Corp in the smartphone industry, behind number one Samsung, which took 31.4 percent of the global market share, and Apple with 13.1 percent. Huawei's market share was 4.8 percent.
Colin Giles, executive vice-president of Huawei Consumer Business Group, said Huawei's goal this year is to deliver 80 million smartphones, a 28 million increase over last year's number.
According to Giles, Huawei's global brand awareness increased by 110 percent from 25 percent in 2012 to the current 52 percent. Over the past 18 months, Huawei's brand awareness increased three to four times in countries such as Spain, Germany, Italy, the United Kingdom, France and Japan. In the US, it rose from 9 percent to 22 percent.
Innovation is always key for Huawei, said Giles. The company invests 10 percent of its total expenditure in R&D each year.
"Batteries are the biggest challenge for smartphone producers," said Richard Yu, CEO of Huawei Consumer Business Group.
Yu said he is pleased when he can use his Huawei Ascend Mate 2 to help charge other people's phones when needed. According to Yu, the Huawei phone is powered by "the world's largest 4050mAh Li-Polymer battery". Heavy users and business users can get two days of uninterrupted performance. No other brand has achieved more than one day of uninterrupted performance for business users, Yu said.