UK media shines the spotlight on China
By Cecily Liu ( China Daily )
Updated: 2013-12-03 08:15:00
When I woke up this morning, I noticed something different in the air. The television next to my breakfast table displayed pictures of my homeland China as the BBC's news channel follows British Prime Minister David Cameron on his visit to Beijing, and the Financial Times delivered to my front door carried a front-page story on the same.
I switched on my laptop and found that most British news agencies are featuring Cameron and China on their websites, ranging from nationals like The Daily Telegraph, The Times and The Guardian, to local publications like This is Cornwall and Place North West.
Witnessing China in the spotlight of the British media is a luxury for me, because my job as a London correspondent for China Daily normally requires me to hunt for China-related stories on a day-to-day basis.
But I feel that with Cameron's China visit, his second since becoming prime minister in 2010, the British media will undoubtedly pay more attention to China in the future.
This is not only because British politicians are keen to stress the importance of China. It is also because China is becoming a partner of Britain through trade and investment, creating a win-win relationship in the process.
Indeed, Cameron's desire to help China gain better access to the European Union market is a focal point of today's news agenda.
Promising to put his "full political weight" behind an ambitious and comprehensive EU-China free trade agreement, Cameron believes such an agreement would be achieved through the elimination of tariffs in 20 sectors such as vehicles, pharmaceuticals and electrical goods.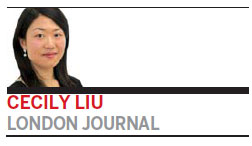 Aside from the big picture, many British media outlets have also stressed the encouraging fact that smaller businesses, such as Westaway Sausages of Devon, Moulton Bicycles and the Cambridge Satchel Company, make up the bulk of Cameron's delegation.
Such an arrangement is perhaps not surprising considering Cameron's delegation of around 120 business leaders is the largest that has ever left the country. It also highlights the importance Cameron has attached to this trip, and his desire to share the opportunity with businesses in all sectors of the British economy, big and small.
As Cameron's visit has become such a popular topic with the British audience, it seems that the opposition Labour Party is also keen to have its message delivered in the media.
Many reports of Cameron's trip also quoted Labour leader Ed Miliband saying that Britain should build up and make good use of its comparative advantage of a "high-skill, high-tech, high-wage economy" in its economic relationship with China.
I noticed that media reports are also eager to dig deeper into more lively topics related to the visit.
For example, The Times carried a page 2 story about Cameron opening a micro blog on Weibo, which has attracted 120,000 followers. His first post received 10,000 comments and was forwarded more than 30,000 times.
Having witnessed the high level of interest China has generated in the British media today, I feel comforted, because a better understanding of China on the part of Britain's general public is an important factor contributing to a good relationship between the countries.
As Cameron stresses "openness" and "dialogue" in his discussions with Chinese leaders, I feel these two concepts are just as apt when applied to the British media's coverage of Cameron's China trip and how that impacts on their readers.

China taken on as building partner
Meetings with central and Eastern European heads underline China's global roal.