PYONGYANG - Former NBA star Dennis Rodman arrived here Thursday on his third visit within a year to the Democratic People's Republic of Korea (DPRK).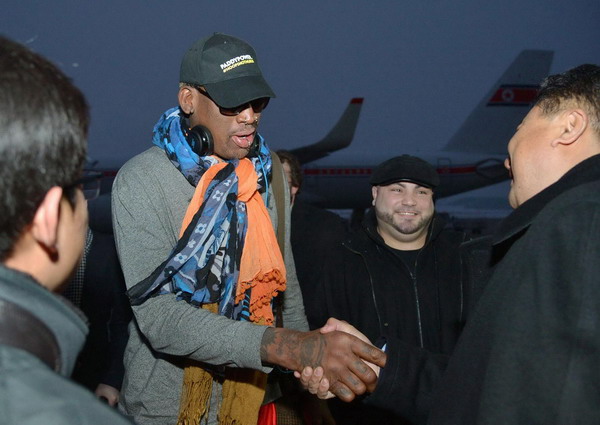 Retired U.S. basketball star Dennis Rodman (2nd L) shakes hands with officials upon arrival at Pyongyang airport, in this photo taken by Kyodo December 19, 2013. [Photo/Agencies]
Rodman, along with nine delegation members, is here to help train the country's national basketball team for a January 8 exhibition game marking the birthday of DPRK's top leader, Kim Jong Un.
The five-day trip was organized by Irish bookmakers Paddy Power. The delegation also planned to shoot footage for a documentary.
"We will talk about the schedule in detail while meeting Rodman in person. A city tour may also be chosen by him," a DPRK Sports Ministry source told Xinhua at the airport.
The source confirmed the ministry would make a detailed plan for the exhibition game between the DPRK basketball team and ex-NBA players.
Foreign correspondents in Pyongyang were not allowed to go into the airport and Rodman left through a guest channel without giving any interviews.
Before boarding an Air Koryo flight in Beijing, Rodman told reporters he hoped to have a "good conversation" with his "friend for life," referring to Kim, whom he described as "an awesome guy" on his first trip in March.
While watching a basketball match with Kim during his second visit to Pyongyang in September, Rodman said he would contribute to boosting diverse sports and cultural exchanges with the DPRK.
Rodman's trip comes one week after the execution of Kim's uncle-in-law, Jang Song Thaek.
Jang, 67, also secretary of the ruling Workers' Party of Korea's administration department, was executed on December 12, immediately after a special military tribunal convicted him of treason.
The U.S. State Department said earlier this week Rodman did not represent the U.S. government.
"This has nothing to do with Jang's execution," an official of the Sports Ministry told Xinhua. "I have no idea why the Americans always relate everything to politics, this is only a scheduled friendly sports exchange."