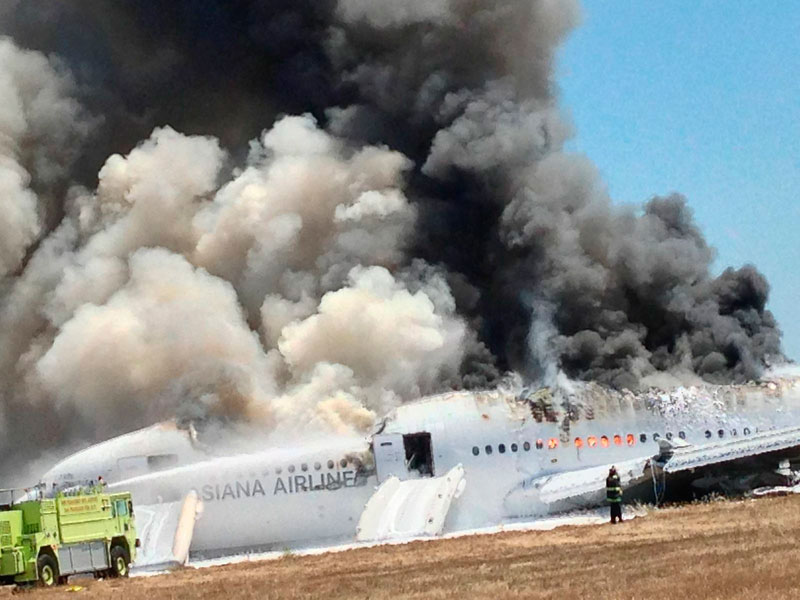 An Asiana Airlines Boeing 777 plane is engulfed in smoke on the tarmac after a crash landing at San Francisco International Airport in California July 6, 2013, in this handout file photo provided by passenger Eugene Anthony Rah, released to Reuters on July 8, 2013. Photo/Agencies]
WASHINGTON - US safety investigators are looking closely at whether an over-reliance on autopilot systems in modern aircraft has degraded human flying skills, increasing the risk of accidents.
At a hearing on Wednesday, the National Transportation Safety Board will examine if cockpit complacency caused an Asiana Airlines Inc's jetliner with 307 people aboard to crash land at San Francisco International Airport in July, killing three and injuring more than 180. The hearing had been set to begin on Tuesday, and to run for two days, but was postponed and shortened by bad weather.
Asiana Flight 214 from Seoul came in too slow and too low, causing its tail to strike a seawall just short of the runway. The tail and landing gear came off, and the plane caught fire and skidded down the runway, strewing wreckage and people over a wide area.
So far, there is no evidence of mechanical failure of Boeing Co's 777, an aircraft never before involved in a fatal accident. Instead, investigators have focused on the possibility that the pilots might have misread the aircraft's automated controls in the final minutes of flight.
Asiana has ruled out mechanical problems with the plane and has described the pilots as experienced and competent. It has offered victims initial compensation of $10,000 and has vowed to improve pilot training.
The three people who died in the crash were teenagers from China who were arriving in the United States for summer camp. Authorities later ruled that one of the victims died from injuries she received from being struck by a rescue vehicle. The crash has triggered numerous lawsuits against Asiana and Boeing on behalf of victims.
The accident has fueled concerns that pilots are relying too much on computers to fly, and losing their ability to manually land a plane when needed.
"It's exactly what they should be talking about," said Robert Schapiro, a retired pilot who has flown internationally for major airlines for 30 years.
"Automation is part of what made aviation so fantastically safe. But pilots have become totally reliant on it."
The Asiana crash was the first fatal commercial airline accident in the United States since 2009, when a regional airliner operated by Colgan Air crashed in New York state.
Boeing declined to comment ahead of the NTSB hearing. Its 777 jetliner is a widely used, long-range aircraft that has logged nearly 5 million flights since it entered service in 1995 and holds the world record for distance by a commercial aircraft.