Asiana crash victims' ashes returned to relatives
HANGZHOU - The ashes of three Chinese teenagers who died in a plane crash in San Francisco were sent to their hometown in East China's Zhejiang province on Monday.
Ten relatives of the victims boarded a flight operated by China Eastern Airlines in San Francisco early Sunday and arrived at Shanghai Pudong International Airport at 5 pm Sunday before traveling to the city of Jiangshan, the victims' home.
On Monday, the victims' relatives went to the Jiangshan Municipal Funeral Parlor, where other relatives, local officials and representatives from the middle school they attended waited for their arrival.
Memorial services and funerals for the three girls are scheduled for a later date, one of the relatives said.
The girls were aboard Asiana Airlines Flight 214 when it crashed at San Francisco International Airport on July 6. The crash killed one of the girls instantly, while another girl was run over by an ambulance. The third girl died six days later in a local hospital after sustaining critical injuries.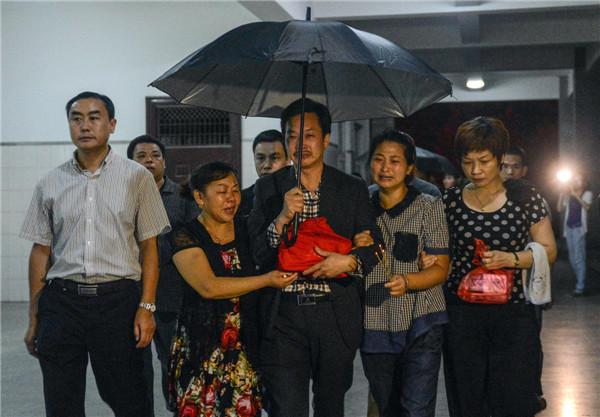 Wang Linjia's parents carry her ashes to a funeral parlor in Jiangshan, Zhejiang province, July 29, 2013. Wang died in the San Francisco air crash on July 6. [Photo/Xinhua]

Editor's picks

Copyright 1995 - . All rights reserved. The content (including but not limited to text, photo, multimedia information, etc) published in this site belongs to China Daily Information Co (CDIC). Without written authorization from CDIC, such content shall not be republished or used in any form. Note: Browsers with 1024*768 or higher resolution are suggested for this site.
Registration Number: 130349