DPRK launches another missile
'Provocative' actions raise concerns after int'l calls for restraint ignored
The Democratic People's Republic of Korea fired a short-range missile from its east coast on Sunday, ignoring calls for restraint from the international community after it had launched three missiles a day earlier, a Republic of Korea news agency said.
The DPRK's short-range missile launches are not uncommon, but such actions have raised concerns about the region's security.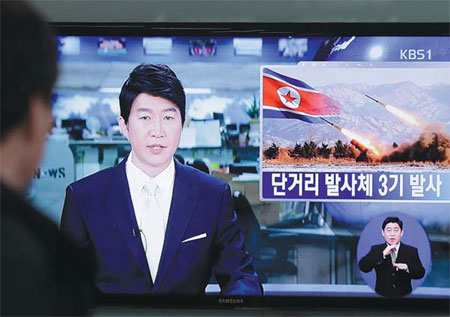 A passer-by watches a TV news report about a missile launch conducted by the Democratic People's Republic of Korea, at a train station in Seoul, on Saturday. Ahn Young-joon / Associated Press 
"North Korea fired a short-range missile as it did yesterday into its east sea in the afternoon," the ROK's Yonhap News Agency reported, citing a military official.
An ROK Defense Ministry official confirmed the Yonhap report, but did not provide details.
On Sunday, the ROK condemned the DPRK's short-range missile launches as "provocative" and again urged it to hold talks about a suspended jointly run industrial park.
On Saturday, the DPRK launched three short-range guided missiles off its east coast, apparently as part of a military drill, at a time when cross-border relations remain icy after months of tension.
The ROK and US forces had earlier been on heightened alert for any test of medium-range Musudan missiles by the DPRK, which for weeks made threats of nuclear or conventional attacks on Seoul and Washington.
The latest launch only involves short-range missiles. But it poses threats to the region and should be "stopped immediately", said the Seoul ministry that handles cross-border affairs.
"We find it deplorable that the North does not stop provocative actions such as yesterday's launch of guided missiles," said Unification Ministry spokesman Kim Hyung-seok.
"We call on the North to take responsible actions for our sake and for the sake of the international community."
On Saturday, the US State Department urged the DPRK to exercise restraint, without specifically commenting on the launches.
Spokesman Kim also urged the DPRK to respond to the ROK's repeated calls for talks about the jointly run Kaesong Industrial Complex, where work has been suspended because of the political standoff.
The ROK pulled out all of its workers from the industrial zone early this month after the DPRK withdrew its 53,000 workers as tensions mounted.
Reuters-AFP