4 killed in Pakistan blasts
Bombings at party offices as nation prepares for elections
Bombs exploded near party political offices in remote areas of Pakistan on Friday, killing four people on the eve of a landmark general election threatened by the Taliban with suicide attacks.
Campaigning ended at midnight with impassioned pleas for votes from front-runner Nawaz Sharif, a steel tycoon bidding for a historic third term as prime minister, and cricket star Imran Khan, who is looking for a breakthrough.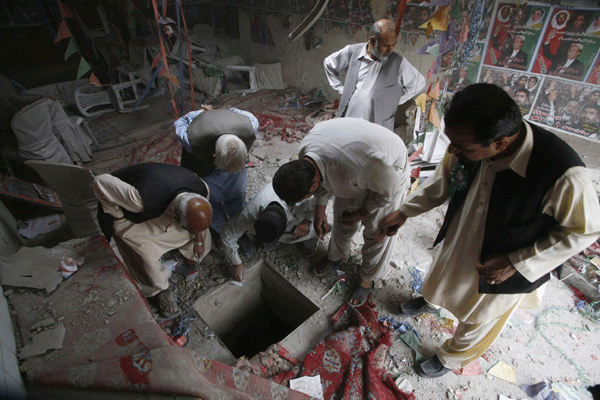 Police officers inspect a damaged election campaign office belonging to the Pakistan People's Party after a bomb blast in Quetta on Friday. The explosion injured five people, according to local media. Naseer Ahmed / Reuters
According to election commentators, the main outgoing Pakistan People's Party (PPP) has run a lackluster and rudderless campaign in the face of Taliban threats and with its chairman, Bilawal Bhutto Zardari, too young to contest a parliamentary seat.
Most commentators expect Sharif's center-right Pakistan Muslim League-N (PML-N) to win but it remains unclear how far Pakistan Tehreek-e-Insaf (PTI) can provide an upset and restrict his chances of forming a stable coalition.
As the countdown to the polls began, the election commission announced that 179 million ballot papers were being distributed to around 70,000 polling stations across the country under army supervision.
More than 600,000 security personnel, including tens of thousands of soldiers, have been ordered to deploy to guard against attacks on polling day.
On Friday, a motorbike bomb killed four people and wounded 15 close to offices of different parties in the main town of North Waziristan, the premier stronghold of the Taliban and al-Qaida-linked groups on the Afghan border.
Security officials said PML-N, PTI and right-wing religious party Jamiat Ulema-e-Islam, an ally of the outgoing government, had offices nearby.
Witnesses and officials said 15 people were taken to Miranshah hospital, some of them in serious condition.
In the southwest, a low-intensity bomb planted on the roof of the office of a PPP candidate in Quetta wounded five people on Friday, police said.
The device detonated when supporters of Sardar Omar Gorgaj, a former Cabinet minister and PPP national assembly lawmaker, were gathering in his office.
Saturday's polls are the first time in Pakistan's history that an elected civilian administration has handed power to another through the ballot box.
More than 86 million Pakistanis will have the opportunity to elect 272 lawmakers to the 342-member national assembly and lawmakers to four provincial assemblies.
No one claimed responsibility for Friday's bombings, but the Taliban, who consider the election un-Islamic, have carried out numerous attacks to undermine the polls and say they have dispatched suicide bombers for polling day.
More than 120 people have been killed in bombings and shootings directly targeting politicians and political parties since mid-April, according to an AFP tally.
The Taliban has singled out the secular-leaning PPP and its main coalition partners, the Muttahida Qaumi Movement, which controls Pakistan's biggest city of Karachi, and the Awami National Party in the northwest.
On Thursday, a son of former PPP prime minister Yousuf Raza Gilani was kidnapped and two of his aides killed in the central city of Multan.
Gilani told reporters on Friday that there had been no claim of responsibility for the abduction of his son, Ali Haider Gilani, a 27-year-old PPP candidate for the assembly in Punjab province.
"We should create a conducive atmosphere for the elections, so that polls look fair and transparent," Gilani said.
Gilani was disqualified after being sacked and indicted by the Supreme Court last year for refusing to reopen corruption cases against the president, but has been openly campaigning on behalf of three of his sons.
UN Secretary-General Ban Ki-moon, who has expressed concern about the wave of violence, has called on Pakistanis to take part peacefully in the polls regardless of their religion, ethnicity or gender.
The party of populist cleric Tahir-ul Qadri, who in January led demonstrations demanding key reforms before elections, announced that he would hold protest sit-ins in Lahore, Islamabad and Karachi on Saturday.
"The election result will prove that the same corrupt parties and corrupt criminals are re-elected to the Parliament. No party will gain majority and after the elections there will be horse trading based on corrupt practices," it said.