Russia strives to prevent future wars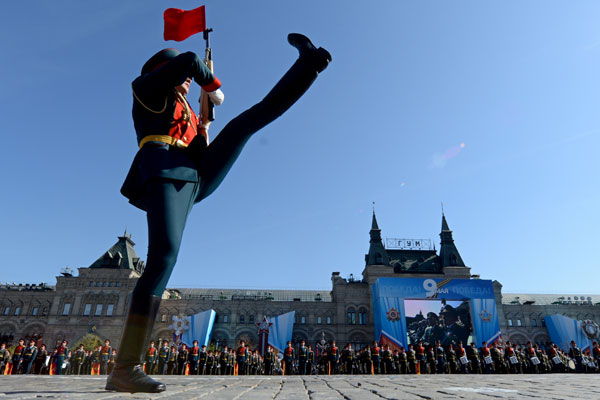 An honor guard marches in Red Square, Moscow, on Thursday during a Victory Day parade. Fighter jets screamed overhead and tanks rumbled over the cobblestones as Russia flexed its military muscle on the 68th anniversary of victory over Nazi Germany. [Photo/Agencies]
Russia will do everything it can to prevent new wars, Russian President Vladimir Putin said on Thursday.
During his speech at the Victory Day Parade marking the 68th anniversary of Germany's surrender in World War II, Putin said Russia will try its best to "cut short anyone's willingness to unleash a new war at any time".
He also vowed that Moscow will continue ensuring peace and strengthening global security.
Calling victory in World War II "the sound of a bell proclaiming the start of life without a war" and "a sacred symbol of loyalty to the fatherland", Putin called for unity, patriotism, and family values among different peoples and ethnicities within Russia.
"We have a duty to live up to the expectations of our great grandfathers and fathers. We must get over all the difficulties and barriers and hand down a flourishing, free and strong Russia to our children," he said.
The annual military march gathered tens of thousands of servicemen from various branches of the Russian Armed Forces, cadets of military schools, officers and teachers from military academies across the country.
World War II veterans and foreign guests were invited to watch the annual event held in the Red Square of downtown Moscow.
Earlier this week, Russia's Foreign Minister Sergei Lavrov said that Russia was trying to obtain a deserving place in the international arena and considered it "unacceptable" to rewrite the history of World War II.
Fighter jets screamed over the Red Square, and heavy tanks rumbled over its cobblestones on Thursday.
The decision to hold Victory Day parades was first made by Joseph Stalin after the country lost an estimated 27 million people defending its territory and the Eastern Front.
Military muscle
Victory Day parades have expanded during Putin's 13 years in power to include heavy intercontinental missiles and Tu-95 bombers.
"We will always remember that it was specifically Russia, the Soviet Union, that undermined the abhorrent, bloody, supercilious plans of the Nazis and kept them from controlling the world," Putin said at the nationally televised ceremony.
"Our soldiers saved freedom and independence by defending their motherland without sparing themselves, liberating Europe and claiming a victory whose grandeur will live on for centuries."
The 68th anniversary of what Russia still calls The Great Patriotic War included 11,000 soldiers marching to a military band as huge banners reading "May 9" decorated the Kremlin's walls.
Xinhua-AFP