Scores dead in Texas fertilizer plant blast
HOUSTON - A fire is still burning at a Texas fertilizer plant, six hours after an explosion Wednesday night is feared to have killed dozens injured 170 more, but emergency services say they now have it under control.
The explosion happened about 7:50 pm local time (0050 GMT Thursday) in the city of West, some 320 kilometers north of the Texas capital of Houston. Click for live report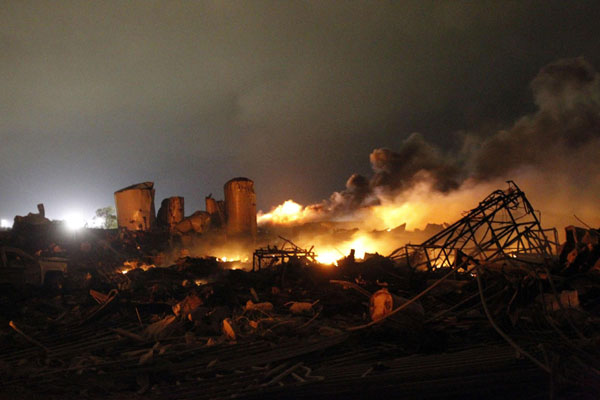 The remains of a fertilizer plant burn after an explosion at the plant in the town of West, near Waco, Texas early April 18, 2013. [Photo/Agencies]
There are no official casualty figures, but Dr. George Smith, the head of Texas Emergency Medical Services in West, said at least 60 were dead and some 170 injured, broadcaster KWTX reported.
West Mayor Tommy Muska told an earlier news conference it had been confirmed at least four or five rescuers and firefighters were missing.
Muska said a fire broke out at the fertilizer plant before the explosion, which devastated surrounding areas, destroying 10 homes and damaging 50 more. It also triggered a 2.1-magnitude earthquake.
Witnesses said an evacuation had already begun before the explosion due to the fire at the plant. The huge explosion sounded like a nuclear bomb and sent a mushroom cloud into the air.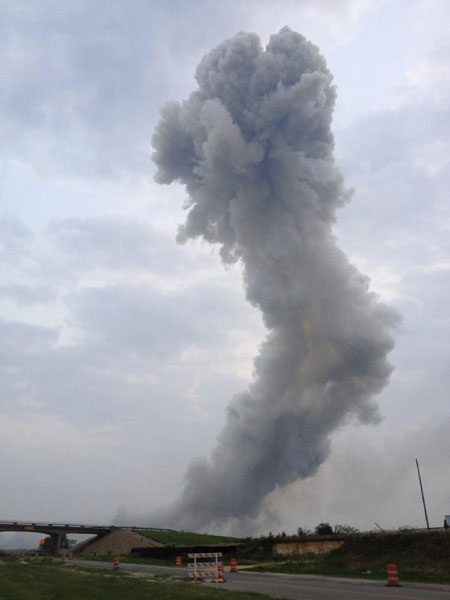 A column of smoke rises after an explosion at a fertilizer plant north of Waco, Texas April 17, 2013. Police are reporting a large explosion at a fertilizer plant in the town of West, Texas. Local police scanner traffic reports multiple structures on fire with many people trapped, according to news reports. [Photo/Agencies]
Rescuers launched a door-to-door search overnight in the area near the explosion, looking for dead or injured.
Toxic gas is feared to have been released into the air and authorities are worried that a second fertilizer tank may explode.
The cause of the explosion and the earlier fire in the plant is under investigation.
West is a small city of 2,600 residents. Half of the town was evacuated after the explosion.
Many journalists rushing to the scene are awaiting an official briefing at a temperay media center about 5 miles from the plant, roads to which have been closed.